Michelin Primacy 4 review
A surprise result for Michelin, which had shrugged off its good-on-fuel, poor-in-wet reputation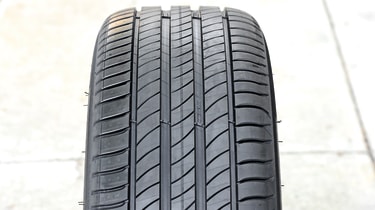 Michelin is leading the campaign to get tyres used safely right down to their 1.6mm legal minimum. There are strong environmental reasons for this, and the latest stage in the drive is to get EU wet-grip testing done when the tyre is worn – a real-world assessment – rather than brand-new, as is the case currently.
At the launch of the Primacy 4 in 2017 Michelin claimed it delivered a high level of performance from new to the limit. We can only think that it had to give up some performance when new to get that worn-tyre ability because it had by far the worst results across all our wet tests. It's almost like Michelin has turned the clock back to when it was at the top of the rolling-resistance test but struggled in the wet.
The Primacy 4 had much less grip than the best, seeming to skate over the wet surface, needing lower corner-entry speeds and more steering lock in turns. It did better in deep-water aquaplaning tests, but the overall result was not good.
There was a similar lack of grip in the dry, particularly through long turns, where we had to lift off earlier than with the best rivals to maintain the car's line. It also felt quite soft, but others had similar problems and joined it at the bottom of the table.
The high point for Michelin was fuel economy, where it was close to the winning Continental and clear of the chasing pack.
Blackcircles.com says...
"This has been a popular tyre amongst customers since its launch in 2017. It has gained an average customer rating of 4.7/5 from over 1,000 reviews"
Figures
Michelin Primacy 4
Overall
98.30%
7th
Price
£161.99
Wet handling
97.00%
8th
Wet braking
95.50%
6th
Wet cornering
94.90%
8th
Straight aquaplaning
98.70%
4th
Curved aquaplaning
88.80%
5th
Dry handling
99%
6th
Dry braking
98%
6th
Rolling resistance
94.30%
2nd
Cabin noise
98.80%
6th