Best electric company cars
Here are the best electric company cars on sale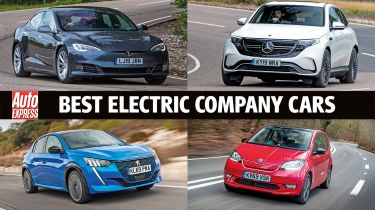 As part of the Government's drive to reduce emissions from road transport, it's especially keen to push business users into zero-emissions electric cars. As a result, if you run an EV for the 2020/2021 tax year, BiK will be charged at zero per cent. Free. Nothing. For 12 months. 
As we've said, this is an incentive that's designed to get people driving EVs, because many motorists' purchases or company car choices are driven by how this will impact them financially. It's true that modern motorists are also more in tune with the environmental impact of their transport than ever, so turning to an electric car now, as these models become even more usable thanks to improved real-world ranges, will make sense for many people.
Now really could be the best opportunity to work the system to your advantage with an EV if you're a business user, because the 2020/2021 tax year is the only period where zero-emission cars pay no company car tax. It's been announced that this rate for 0g/km vehicles will rise by one percentage point each tax year after this one. 
Even the city cars that we've picked in our electric rundown are viable machines, although they represent the more compact end of the company car scale. Of course none of these machines will cost you a penny this year, but as time goes by, BiK costs will start to rise. We've picked out everything from electric urban runabouts to luxury executive saloons and SUVs with impressive performance, and everything in between.
Bear in mind that 2020 is set to become the year of the EV, with a host of new models due to be launched, so as we progress further through the year, your choice could get even wider. If you're a business user, now's the time to turn to electric propulsion. 
SEAT Mii Electric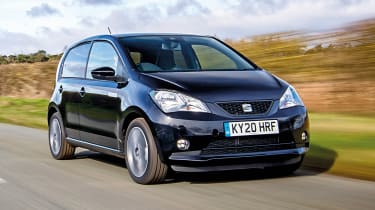 Price: £19,800
Engine/power: 1 x electric motor/82bhp
CO2/BiK band: 0g/km/0%
0-62mph/top speed: 12.3 secs/81mph
Underneath, the SEAT Mii Electric is identical to the VW e-up! and the Skoda Citigo-e iV, but it's a little bit cheaper. While all three of these cars offer zero-rate Benefit-in-Kind contributions, the SEAT's interior is more striking. A bold, patterned panel across the dash makes it look smart if not luxurious, and there are funky stripes on the seats for more youthful appeal. 
Beyond that, the recipe is more or less the same. The 36.8kWh battery gives up to 160 miles of range and, with one trim level, almost everything is standard. Rear tinted windows, LED daytime running lights, DAB radio, ambient lighting, heated front seats, cruise control, rear parking sensors, rain-sensing wipers and a Type 2 charging cable are all included. A three-pin cable costs £160, however, but you do get CCS rapid charging as standard.
Again there's no infotainment offered, with a space to clip your smartphone into the dashboard. Apple CarPlay and Android Auto connectivity is provided, though.
MG ZS EV Exclusive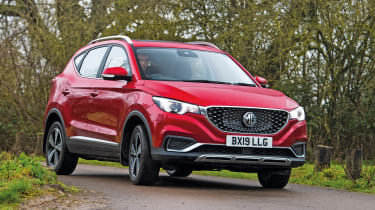 Price: £27,995
Engine/power: 1 x electric motor/140bhp
CO2/BiK band: 0g/km/0%
0-62mph/top speed: 8.5 secs/87mph
If you're open to running an electric family car, they don't get much more affordable than the MG ZS EV; the same is true as a company car, thanks to zero per cent BiK.
The Chinese-built SUV contains a 44.5kWh battery that's good for 163 miles of range – enough for the average commute and running daily errands while only having to charge once or twice a week. A typical Type 2 home wallbox will top up the lithium-ion unit in around six hours, while an 80% fast charge via the CCS port takes 40 minutes.
It's not remarkable to drive, but the ZS EV offers a lot more passenger space in both the front and rear than other EVs. Standard features include an eight-inch colour touchscreen with sat-nav and smartphone connectivity, climate control, keyless entry, adaptive cruise control and active emergency braking. But it's worth upgrading to the top Exclusive model for the panoramic roof, blind-spot detection, better stereo and rear parking camera – and it won't incur a higher BiK rate as a company car this year. 
Audi e-tron 55 quattro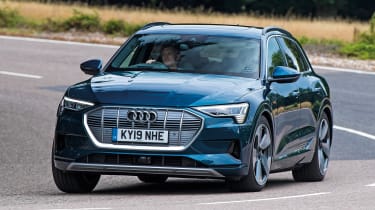 Price: £68,560
Engine/power: 2 x electric motor/402bhp
CO2/BiK band: 0g/km/0%
0-62mph/top speed: 5.7 secs/124mph 
The e-tron is Audi's first full EV, but unlike cars such as the Jaguar I-Pace, it's adapted from an existing architecture, MLB evo. That shows in some ways, but this is still a great EV; the ride is okay, there's plenty of space, and all the build quality and tech expected in a premium Audi.
The 95kWh battery gives up to 252 miles of range, which isn't the best, but is still useful. Remember that recharging at home will cost pennies compared with fuelling a similar-sized petrol or diesel SUV, while your BiK bill will fall to nothing for the next 12 months. 
We'd stick with the 55 because the e-tron is heavy and the extra power will help performance, while it also gets more range than the e-tron 50 model. There's no need to go for any more than the basic spec though, with MMI Nav Plus, a digital dash, climate control, a 360-degree camera with parking sensors and 20-inch alloys all standard.
Tesla Model S Long Range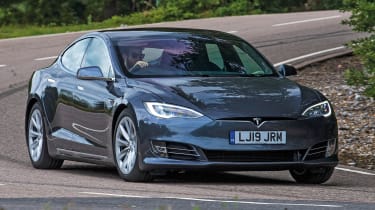 Price: £79,190
Engine/power: 2 x electric motor/417bhp
CO2/BiK band: 0g/km/0%
0-60mph/top speed: 3.7 secs/155mph 
Of all the electric cars available today, the Tesla Model S is the one that a lot of people aspire to. It accelerates fast enough to trouble most supercars, while the 379-mile range you get with the appropriately named Long Range variant is more than in any other EV currently in production.
It's technically the base-spec car, but it still gets Tesla's Premium Interior, complete with luxury touches such as heated seats, a panoramic roof and minimalist cabin with a huge, 17-inch touchscreen. The design is a fine match for the feel of the car on the road: smooth, quiet and relaxing, with rapid acceleration always on hand when you need it. 
For now, free, unlimited use of Tesla's vast Supercharger network is included with the Model S, although this offer has been withdrawn and reinstated many times recently. Plug a Model S into one of these stations and a 10-80% top-up could take just 38 minutes. Teslas also now accept CCS rapid charging, which hugely boosts their practicality alongside the roomy interior and massive 894-litre boot.
Kia e-Niro '4'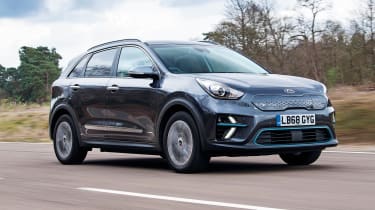 Price: £34,995
Engine/power: 1 x electric motor/201bhp
CO2/BiK band: 0g/km/0%
0-60mph/top speed: 7.5 secs/104mph
The Kia e-Niro can do everything the MG ZS EV can do; it just does it better. A 64kWh battery is good for 282 miles of range, while the 201bhp electric motor also produces 395Nm of torque. It'd be a stretch to call the e-Niro fun to drive, but the performance – especially in town – is a pleasant surprise, as are the quiet running and comfy ride. 
The high-spec e-Niro '4' is the only one currently on sale, and it provides all the equipment you could possibly want: LED lights, leather upholstery, heated front seats, adaptive cruise control, a reversing camera, parking sensors, a 10.25-inch touchscreen with sat-nav and yes, Apple CarPlay and Android Auto too. 
Passenger space is good – ideal for a small family – and there's plenty of room for luggage in the 451-litre boot. The only downside? It's not a pretty car. But you'll love it for its ease of use and super-low running costs.
Jaguar I-Pace S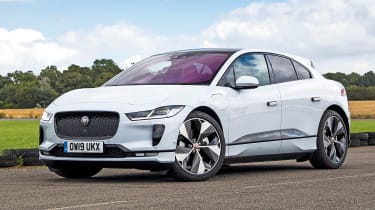 Price: £64,495
Engine/power: 2 x electric motors/396bhp
CO2/BiK band: 0g/km/0%
0-60mph/top speed: 4.5 secs/124mph
The Jaguar I-Pace is a magical car, not least because it corners far better than it should for a vehicle that weighs over two tonnes. Add 696Nm of torque and all-wheel drive into the equation, and you've got the makings of a seriously fun vehicle.
Based on those numbers, it's easy to forget that the I-Pace is actually an upmarket SUV. There's seating for five, for example: head and legroom are good enough, although the rear bench will be a bit of a squeeze when seating three abreast. The interior feels futuristic and quality is great, but while there's plenty of technology, the infotainment could be better.
Stick to the most basic S model (BiK rates will rise next year, so keep an eye on company car tax in the future) and you'll still get LED headlights, a 10-inch infotainment screen with sat-nav and smartphone connectivity, sports seats, an 11-speaker Meridian stereo and a 360-degree camera, plus decent safety tech. You can even monitor and schedule charging sessions on a dedicated smartphone app.
Renault Zoe i GT Line R135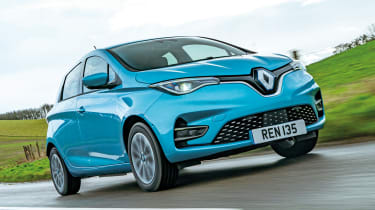 Price: £28,620
Engine/power: 1 x electric motor/107bhp
CO2/BiK band: 0g/km/0%
0-60mph/top speed: 9.5 secs/87mph
If you want a small electric car that'll slot straight into your life, look no further than the Renault Zoe. It'll return up to 238 miles of range from its 52kWh battery in this spec, making it one of the most frugal electric cars on the market. Charging from home will give you fuel costs of around three pence per mile, and even less if you plug in when tariffs are cheaper overnight.
The more powerful R135 motor is perkier so it feels nippy around town and can even live with motorway cruising, yet drive sensibly and this extra power won't impact the range.
Given that you'll pay nothing in company car tax, it makes sense to go for the top-spec car, which is fitted with automatic headlights and wipers, cruise control, a 10-inch instrument cluster, a 9.3-inch colour touchscreen with sat-nav and phone connectivity, front and rear parking sensors, plus a reversing camera and lots of safety tech. 
The only real catch is that 50kW fast-charging – which you'll need when you travel further afield – is optional, at £750. 
Tesla Model 3 Standard Range Plus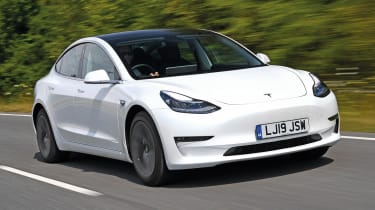 Price: £40,490
Engine/power: 1 x electric motor/245bhp
CO2/BiK band: 0g/km/0%
0-60mph/top speed: 5.3 secs/140mph
The Tesla Model 3 is one of the most capable electric cars, and most drivers will be served well enough by the basic Standard Range Plus car. It has up to 254 miles of range plus access to the large Supercharger network, although Model 3 owners must pay for each use.
With a single, large infotainment touchscreen dominating the sparse dash, the interior is unique. But it's easy to master, while the quality just about hits the standard required to appeal to executive buyers. 
The Model 3 will comfortably seat four adults (five at a push), and while the ride is firm, the suspension will soak up the worst bumps. The car even handles well, proving more agile than its hefty weight would suggest.
Peugeot e-208 GT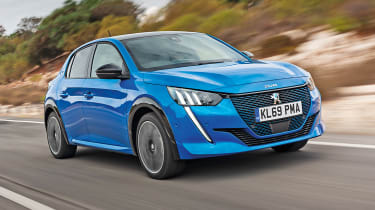 Price: £29,450
Engine/power: 1 x electric motor/134bhp
CO2/BiK band: 0g/km/0%
0-62mph/top speed: 8.1 secs/93mph
Like the Zoe, the e-208 puts a big battery (50kWh) in a compact body to create something with genuinely usable range (217 miles, says Peugeot) and decent practicality. With a five-door set-up and 311-litre boot, it's as flexible as the Zoe, but far more fun to drive. Along with the MINI Electric, this is one of the best-driving EVs at any price.
Performance borders on hot-hatch levels, yet its running costs undercut even a frugal city car's. And although not everyone will get on with the i-Cockpit's small steering wheel, it does make the relatively heavy e-208 feel agile.
We recommend going for top-spec GT trim, which gets all of the premium kit you'd want from a forward-thinking EV, despite being based on a supermini.
Hyundai Kona Electric Premium SE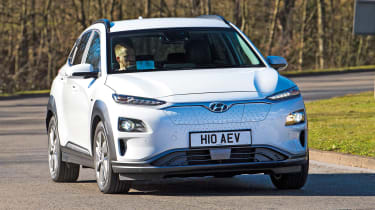 Price: £38,250
Engine/power: 1 x electric motor/201bhp
CO2/BiK band: 0g/km/0%
0-62mph/top speed: 7.9 secs/104mph 
Hyundai has just refreshed the Kona Electric for 2020, with one of the main areas of improvement being the infotainment system, which now boasts a 10.25-inch touchscreen.
The car's 64kWh battery and electric motor remain, though; they were great so didn't need changing. The lithium-ion pack gives a range of 278 miles, while the latter delivers 201bhp and 0-62mph in 7.9 seconds, so it's not much slower than electric SUVs with twice the power.
Premium SE spec is worth it, because you get kit such as auto-high-beam LED lights, adaptive cruise with semi-autonomous tech, good safety kit, a reversing camera with sensors, that latest touchscreen with phone connectivity and wireless charging, plus keyless operation. 
At 332 litres, the Kona's boot is a bit smaller than the Kia e-Niro's, and the Hyundai is not as roomy inside. But like the Kia, the Kona Electric is a great EV that's flexible (an 80 per cent rapid charge takes 75 minutes) and efficient.
Skoda Citigo-e iV SE L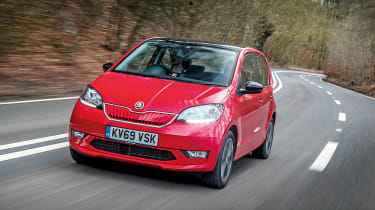 Price: £19,815
Engine/power: 1 x electric motor/82bhp
CO2/BiK band: 0g/km/0%
0-62mph/top speed: 12.3 secs/81mph
A range of 170 miles on offer from the Skoda Citigo-e iV's 36.8kWh battery means it'll fit into most people's daily routines with no compromise whatsoever. 
The car's passenger space and boot capacity are comparable with what's available in internal-combustion-engined rivals, while the strong performance from 0-40mph makes Skoda's smallest car ideal for city life.
The top-spec SE L trim is worth the outlay for its greater charging flexibility: both three-pin and Type 2 cables are included, while the maximum charging rate is boosted to 40kW via a CCS port. At this speed, a public charging station will have the car's battery topped up from flat to 80% full in an hour. If you can't charge at home, this is a capability you mustn't make do without.
One thing the Citigo-e iV is lacking is an infotainment system. Instead, there's a smartphone holder on top of the dashboard, as in the Skoda's VW up! sister car, from which you can use Google Maps or Waze for navigation.
Mercedes EQC 400 4MATIC AMG Line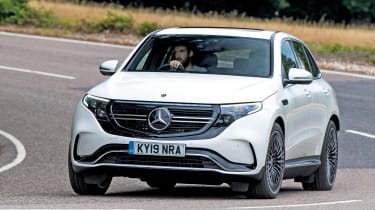 Price: £64,715
Engine/power: 2 x electric motor/402bhp
CO2/BiK band: 0g/km/0%
0-62mph/top speed: 5.1 secs/111mph
SUVs lend themselves well to being EVs, because the raised ride height means big batteries can be fitted in with little compromise. The Jaguar I-Pace and Audi e-tron conform to this recipe, and so does the Mercedes EQC.
The Merc is super-smooth and rides nicely, with refined, effortless performance. And while it's a little more cramped than some rivals, it's very usable. 
The refinement and tech make this experience, though. The interior is one of the best around, while the 80kWh battery delivers a claimed range of 259 miles. We saw efficiency of 2.7 miles/kWh, so the EQC is close to that. AMG Line is the best spec, with no BiK for the 2020/2021, so take advantage of this tax break while you can.
Best company cars by price bracket