BMW i3 - Best electric cars
BMW's i3 electric car delivers premium quality, tiny running costs and surprising pace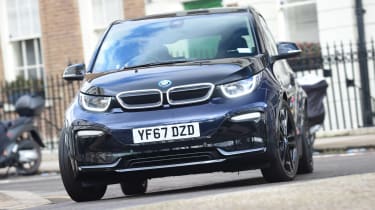 The i3 is unlike any other current BMW on sale. It maintains the brand's rear-wheel-drive tradition, but it uses a 168bhp electric motor under the boot floor, combined with a lithium-ion battery pack. Updates in 2018 also saw the introduction of a new sporty i3s, which gets a more powerful electric motor with 181bhp and revised suspension to deliver a sportier drive.
Both the i3 and the i3s are available as Range Extenders (REx), which comes with an optional two-cylinder motorcycle engine on board that keeps the batteries topped up. Without the range extender, the BMW i3's range stands at anywhere between about 80 miles and 125 miles depending on how you drive; with the range-extender those numbers could double.
The BMW i3 is about the same size as a Ford Fiesta but it feels higher and larger inside. Compared to many electric cars, like the Renault ZOE, it's also very lightweight thanks to its carbon fibre and aluminium construction.
Thanks to the electric motor's instant torque, acceleration is rapid, with the standard i3 managing a 0-60mph time of 7.2 seconds – 3.2 seconds quicker than the Toyota Prius Plug-in hybrid. Once up to speed, the i3's ride is reasonable on those large-diameter wheels. The skinny tyres feel like they will lose grip sooner than the wider treads on some rivals, while the car is easily unsettled by mid-corner bumps. On the plus side, a tight turning circle and light steering mean the i3 is a breeze to drive in town, and the regenerative braking is easy to manage.
The BMW i3's electric range will depend greatly on the driving you do. Keep the REx version's battery topped up and stick to the city, and the 80-mile range means you're never likely to hear the engine fire up. When we tested the i3, we got through a fully charged battery and a tank of fuel with an economy figure of 118mpg.
There's a choice of Comfort, EcoPro and EcoPro+ drive modes, and the latter two are designed to save energy, with EcoPro+ going as far as switching off the climate control and limiting speed to 56mph to maximise range.
Best electric cars to buy 2019