External airbags on way
External airbags will debut on a premium German saloon in a bid to reduce injuries from side crashes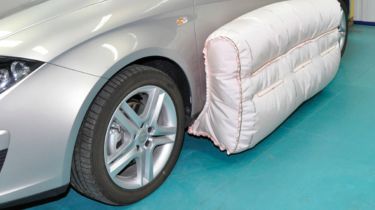 External side airbags are set to debut on a premium German saloon before the end of the decade, Auto Express can exclusively reveal.
Developed by leading industry supplier, TRW, the bags will deploy from the sill beneath the doors in fractions of a second before a side impact occurs, helping to further reduce injuries to occupants in the car.
"Side crashes are still one of the highest accident rates, accounting for 37-40 per cent of accidents," said TRW's vice-president and general manager lifecycle management, Norbert Kagerer.
The EU-funded project to develop the airbags started in Spain three years ago with SEAT heavily involved, although it's not thought to be using them initially.
Typically, the 200-litre bag – which measures 15-20cm deep, 70cm high and 200cm long – rotates upwards when deployed, shielding both the front and rear doors up to the belt line.
To ensure a rapid deployment in 20-30 milliseconds, two inflators are used. TRW has patented a unique inner structure to make the bag stiffer, while the bag's pressure depends on the manufacturer's strategy.
"You can have a bigger bag with less pressure or a thinner bag with higher pressure," said Kagerer.
Over the coming years, TRW will develop the interaction between radar and camera systems required to sense the precise moment to deploy the airbag, "The firing strategy is the issue, as there needs to be a high level of confidence before we're able to fire a non-reversible device prior to impact," Kagerer explained.
The history of the airbag
Although the airbag can trace its origins back to the early fifties, it wasn't until the seventies that they started to appear in cars.
They are now used so commonly that there are airbags for the driver and front-seat passenger, side airbags in doors, curtain ones that drop down the side windows, knee bags and even ones fitted to seatbelts.
And at the Geneva Motor Show in March, Volvo debuted a pedestrian airbag on its V40.
At speeds between 12-30mph, the V40 (above) is able to detect if it is about to hit a pedestrian, and automatically deploys the bag at the base of the windscreen. This lifts the bonnet upwards, cushioning the pedestrian's impact on the windscreen itself.