UK digital driving licence planned
No timeline but smartphone app for a UK digital driving licence revealed by DVLA chief executive Oliver Morley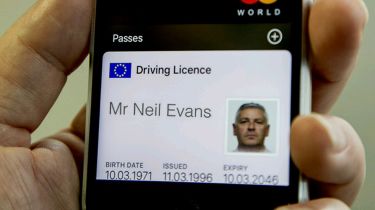 A digital version of the UK driving licence is under development, according to the Driver and Vehicle Licensing Agency (DVLA).
Chief executive Oliver Morley posted images of a "prototype" smartphone app on Twitter detailing how it may operate within Apple's Wallet app on iPhone.
Morley said there's currently no timeline on when the app may be available but revealed the scrapping off the paper part of the licence in June 2015 meant this new project was possible.
The DVLA has stressed it will not replace the existing photocard but will operate as an "add-on" while Morley said security was a "priority".
• How to get your driving licence
The Wallet app already stores boarding passes and credit, debit, gift and discount cards. Payment information is encrypted and authorised with the user's fingerprint or passcode.
CCS Insight analyst Ben Wood said: "Security has taken a significant step forward to support digital payments on phones, so the framework is in place for other secure applications, such as a digital driving licence.
"There are not many people in the UK that do not carry a smartphone with them every day, so it is a logical next step."
The news comes just a week after the Government published its report into the future of its motoring services including the DVLA. The report stated: "We will drive the development of apps that will allow a driver or owner to access the data held by the agencies, as well as related information (for example, the nearest centres providing MOT testing).
"We will also work with other bodies, including the motoring organisations, to allow such functionality to be embedded in their own apps."
A smartphone app for the driving licence is seen as the next step in the digitilisation of motoring. Already the DVLA has introduced enhanced digital services, including an online facility to notify disposal of a vehicle.
Electronic services have been introduced to ensure that drivers can see the information previously shown on the driving licence counterpart. There is also an electronic facility which allows drivers to share this information with third parties should they wish to do so (for example, to hire a vehicle).