Jaguar F-Pace review - deals and offers
The latest finance deals and special offers on the Jaguar F-Pace SUV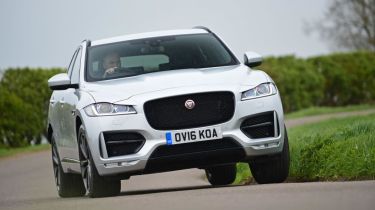 The F-Pace has been a successful entry into the SUV world for Jaguar and it still stands up well against rivals at the premium end of the family SUV class today. If you want to take the next step and get behind the wheel of your own F-Pace, Jaguar offers a range of finance deals of the PCP (Personal Contract Purchase) and PCH (Personal Contract Hire) varieties. You can adapt the packages to your own needs so whether you're buying or leasing and F-Pace it should prove more affordable.
Jaguar offers various special offers from time to time and we'll be rounding them up on this page. Some deals offer low deposits or 0% finance and there are deposit contributions available from time to time to lower the overall cost. Scroll down to find our pick of the F-Pace finance deals on the table at the moment…
Jaguar F-Pace R-Sport 2.0d 180PS - £399 per month
The R-Sport model with the compact yet punchy 178bhp 2.0-litre diesel engine is a solid mid-rance choice for F-pace buyers. It's available on a PCP deal with a £3,750 Finance Deposit Allowance that means buyers only pay a £7,383 deposit and £399 per month for 48 months.
Model: F-Pace 2.0d 180PS R-Sport Auto AWD
Finance Deposit Allowance: £3,750
Deposit: £7,383
Monthly payments: £399
Number of payments: 48
APR: 3.9%
Optional final payment: £17,820
Jaguar F-Pace R-Sport 2.0d 180PS - £485 per month
If you'd prefer to lease a Jaguar F-Pace, you can get the R-Sport with 2.0-litre diesel power for £485 per month with a mileage limit of 10,000 miles per year. That's a 48-month deal with an initial rental payment of £5,820
Term: 48 months
Mileage: 10,000 mpa
Monthly rental: £485
Initial rental: £5,820
Excess mileage: 14.52ppm
2020 facelift F-Pace
Jaguar F-Pace D200 R-Dynamic S - £399 per month
The latest facelifted F-Pace comes with new trim level designations as well as a new look and improved infotainment. We'll be reviewing this version soon. The D200 R-Dynamic S is available for £399 a month on PPC.
Model: F-Pace D200 R-Dynamic S
Finance Deposit Allowance: £1,750
Deposit: £9,172
Monthly payments: £399
Number of payments: 48
APR: 3.9%
Optional final payment: £19,124