Kia Soul (2014-2018) review
The latest Kia Soul keeps the chunky looks of the previous model, but improves practicality and equipment
The Kia Soul arrived in 2008 with looks that divided opinions, and the second generation Soul hasn't done anything to significantly change that. However there's no doubt the restyle has brought a bit more contemporary sparkle to the model, and it's roomier and more practical too.
On the road the Soul offers decent handling, but sadly the engine line-up leaves a little to be desired. The petrol engine is thirsty, and the diesel clattery – two failings that rival crossover models have addressed much better. The Soul gives away a crash-test star to many of its rivals, too.
In its favour, the Kia Soul is well-priced, well-specified and feels well-built. It should be reliable, and comes with an industry-leading warranty.
We were treated to the original Kia Soul way back in 2008. It offered a distinctive alternative to the scores of mini-MPVs out there, but its divisive styling meant it was never a sales hit, despite a decent drive and practical interior.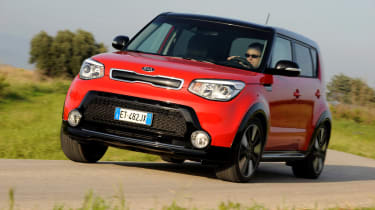 The second-generation model aims to change that, though. The exterior styling is even bigger and bolder than before - it's based on the Track'ster concept from the 2013 Chicago Motor Show - but the boxy dimensions and interesting details have aged well and look positively funky compared to the Cee'd hatchback on which it's based. The Cee'd platform means it's even roomier and better to drive than before, and now the Soul is a credible alternative to other funky crossovers like the Nissan Juke and Citroen C4 Cactus, but with the practicality to rival the Renault Captur and Skoda Yeti.
Buyers of the Soul have the choice of three 1.6-litre engines - two petrols and one diesel. The standard petrol offers up 130bhp, while the diesel has 126bhp, and promises lower running costs. Kia also offers a turbocharged 201bhp variant, known as the Soul Sport.
There's also an electric Kia Soul EV, which tackles the likes of the Hyundai Ioniq, BMW i3 and Nissan Leaf. It has a reasonable range, and is priced similarly to its rivals - but it feels a bit old-fashioned next to newer models.
Kit levels are pretty generous across across the trim levels, previously known as Start, Connect, Connect Plus, Mixx and Maxx, but now rationalised to 1, 2 and 3 - though the Sport gets its own trim.
The entry-level 1 is only offered with the 130bhp petrol engine and a manual gearbox, while only the diesel and Sport are available with an automatic, the Sport exclusively. Whichever Soul you choose, they all benefit from Kia's seven-year warranty.