More Land Rover Discovery models planned
Land Rover has confirmed exclusively to Auto Express that more than three Discovery models could arrive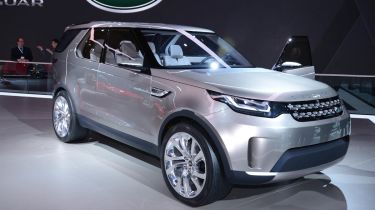 Land Rover has confirmed the forthcoming Discovery family previewed by the Discovery Concept at the New York Motor Show will spawn more than the three models we first anticipated. Speaking exclusively to Land Rover Design Studio Director Richard Woolley, he told Auto Express, "Discovery will evolve into a family of vehicles overtime and not necessarily a three car family, and I can confirm that, there could be more."
Questioned if Land Rover is considering a model that will sit below the Evoque in the range, Woolley said, "Yes, it is something I think we should look at, there's a general trend for downsizing in the market. But whichever sector we went into we have to be the best in terms of off road capability."
Potential billed as a more premium alternative to the Nissan Juke, if Land Rover was to give the small SUV the go ahead it would be entering a market current dominated by the BMW X1 and Audi Q3.
"The challenge for us is to keep those vehicles relevant because the current trend could be a fad. Fashions come and go and we have to ensure whatever we do isn't just following that fashion, our cars have to mean something and they to be relevant."
Auto Express also got the inside scoop on some of the revolutionary tech that will be fitted to the production version of the new Discovery when it is launched in the near future.
"The transparent bonnet feature is an idea that is definitely doable but the challenge is making that commercially viable," said Dai Jones, Research Senior Manager at Jaguar Land Rover. "There are certain things which are closer to market such as the All Terrain Progress Control and in terms of affordability it is something we can do and it will transform the car's capabilities. It's almost the second generation of autonomy."
"An off road guidance coach, with voice assistance and video instruction is also core to the DNA of Land Rover, that sort of feature is perfect for us," Jones continued.