Mazda CX-3 on way
Mazda is working on a chunky new supermini-SUV, and our image shows how it could look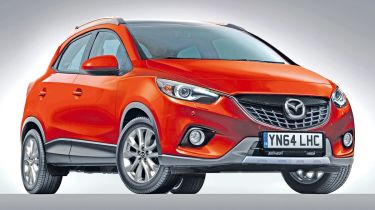 Mazda is planning a new small SUV, based on the next-generation 2 supermini, and our exclusive image shows how it could look.
It's expected to be badged CX-3 and is due in 2014, when it will join a line-up of new Mazdas, ranging from the new 2 supermini and next-generation 3 family car to a new MX-5 roadster and even a city car rival to the VW up!.
When it's released, the CX-3 will take on crossovers like Ford's Fiesta-based EcoSport and the Nissan Juke, and aims to be one of the most efficient and best-driving models in its class.
Engineers will use Mazda's SkyActiv technologies, applying a focus on low weight and strong efficiency to everything from the chassis to the gearbox.
A new diesel – thought to be a 1.6-litre engine – will play a major part in reducing emissions. The most efficient version of the bigger CX-5 – which features a 2.0-litre diesel – manages 61.4mpg and 119g/km, but the CX-3 could be capable of around 80mpg and 95g/km.
Mazda is also thought to be developing a 1.3-litre petrol turbo, which could feature in the CX-3 line-up.
In this class, two-wheel-drive crossovers outsell four-wheel-drive versions by some margin, so the CX-3 may be offered as a front-wheel-drive model only.
As it did in the CX-5, Mazda will attempt to deliver a taste of the MX-5's driver appeal, so the new car's steering and gearbox will be set up for instant responses and feedback.
Our image reveals that the CX-3's front end will borrow the CX-5's 'shield' grille, plus its chunky underbody protection, while the sharp headlights are from the 6.
Practicality will be key to the CX-3's appeal, so engineers are working on a clever seat layout, which sees the rear seats fold flat at the touch of a button.
The newcomer will be priced from around £13,000, and we'll get our first proper look at it in early 2014. Sales of the CX-3 are then expected to start later that year.