Mitsubishi to launch a new SUV every year until 2021
Mitsubishi has revealed plans to launch a brand new SUV every year for the next five years.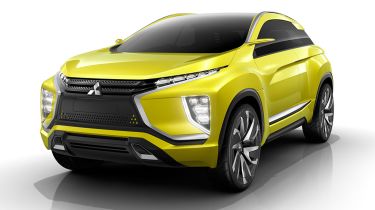 Mitsubishi intends to attack the SUV sector with a range of small, medium and large SUVs in an attempt to become a niche manufacturer, sitting below Land Rover and specialising in SUVs with electric drivetrains. 
Speaking to Auto Express, Mitsubishi UK boss Lance Bradley outlined the firm's big plans to shift around 45,000 cars a year by 2021 thanks to a full range of SUVs using electric, plug-in hybrid and conventional petrol and diesel engines. 
• Best 4x4s and SUVs to buy now
The five new SUVs comprise of a Nissan Juke-sized crossover, a larger ASX small SUV, a new Outlander mid-sized SUV, and full-size Shogun Sport and Shogun models. The ASX itself will remain in the range until 2020. 
New larger SUV above the ASX
The first important car to arrive will be an SUV that sits between the current ASX and Outlander models. It'll launch next year and will be based on the XR-PHEV II first seen at the 2015 Geneva Motor Show. It uses a small petrol engine mated to a 161bhp electric motor to give CO2 emissions of 40g/km.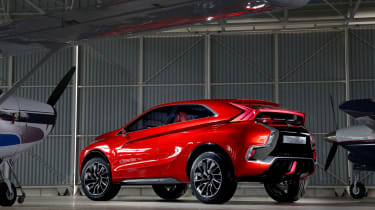 When it arrives the newcomer will sit above the ASX before eventually replacing it towards 2020. Below the ASX will sit a new Nissan Juke-sized B-SUV which will be based on the eX shown at this year's Geneva show. It's a compact, five-door crossover that will be available with full electric power giving a range of 250 miles, and is likely to be joined by a more conventionally-powered petrol or diesel version too (pictured top). It's expected to launch in 2018.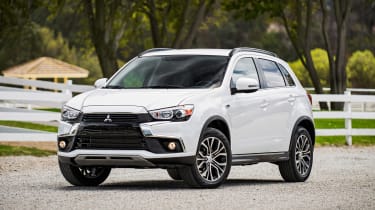 The new B-SUV will help customers recognise Mitsubishi as a maker of electric cars, believes Bradley. "I always say you need the customer's permission to sell a car," he said. "People know us for selling SUVs with four-wheel drive; now I think we are getting the reputation for selling electric cars. We are not there yet but getting there thanks to the Outlander PHEV and these new models – we will get to a level that is hard for other manufacturers to match.
"That's why I want to move the brand, not quite to a Land Rover level, but to a niche position where we are known for building four-wheel drive SUVs that have electric power. No-one else will be able to say that." 
New Mitsubishi Outlander
Mitsubishi will also launch a brand new Outlander in around four years time. It'll naturally be available with a plug-in hybrid powertrain as the current Outlander PHEV has led the way in the plug-in SUV market. No decision has been made as to whether the next Outlander will be available with seven seats for the diesel version, but Mitsubishi may decide to make the diesel a five-seater like the PHEV as it could encroach on their new large SUV. 
The new Shogun Sport large SUV could arrive as soon as this autumn, confirming Auto Express' story of six months ago. It was launched in Thailand in August 2015 and is largely based on the L200 pick-up. When it arrives in the UK it'll be a seven-seater and use a 176bhp 2.4-litre diesel engine, with the option of a six-speed manual and eight-speed automatic. It'll also use Mitsubishi's super select 4WD system with gravel, mud/snow, sand and rock driving modes.
Partnership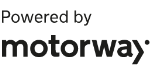 Need to sell your car?
Find your best offer from over 5,000+ dealers. It's that easy.
• Best electric cars to buy now
"It'll have seven seats and be amongst the best at going off-road in its class," Bradley told us. It takes the L200 as a basis but has a different interior, suspension and body panels and will likely appeal to Mitsubishi's traditional customer base – and not conquest customers who'll likely be interested in Mitsubishi's other smaller electric and PHEV SUVs. "The old Shogun Sport looked like an L200 with an estate car rear; this doesn't. We found that people really liked the old car because it looked like an SUV should and this one does too."
Bradley said he could bring the car to the UK through local homologation, but Mitsubishi in Japan would prefer a Europe-wide launch with a decision scheduled to be completed in roughly six months time.
New Shogun and Shogun Sport
The new Shogun Sport will sit just below the Shogun, mirroring the way Land Rover positions its Discovery Sport and Discovery models. The new, full-size Shogun, however, will be the final piece in Mitsubishi's new SUV product launch as the Japanese firm isn't in a rush to replace the current car despite it being 16 years old.
"A vehicle reaches an age and doesn't get any older and Shogun is kind of there," said Bradley. It'll be appearing in 2020 or 2021 as Mitsubishi concentrates on the sectors with the most volume potential. "We could sell 10,000 B-SUV and the new small SUV a year; Shogun, in its peak year, sold 6,000. We won't be selling much more than that with the new Shogun." 
At this year's Geneva Motor Show, Mitsubishi quietly revealed a facelifted version of its Mirage city car. Despite the sales figures appearing to not back it up, Bradley revealed it satisfies a loyal group of customers and there is a scheduled replacement.
"Mirage is not a huge part of our business – this year we will sell 31,000 cars and 1,500 of those will be Mirages," he said. 'But there are some extremely loyal customers who love their small Mitsubishis, and while we have a chance to sell to them we will. The next generation Mirage will be available as fully electric so it's worth keeping a presence in the marketplace. 
"Outside of our range of SUVs, we have the L200 and the Mirage and as long as both of these cars fit with the core range, we will keep them. If the range of SUVs are electric and the small car is electric, it makes sense." 
What do you think of Mitsubishi's future product plans? Let us know in the commnets section below...
Geneva 2016 round-up stories
• Best cars of Geneva 2016• Best concept cars at Geneva 2016• Best of the rest at Geneva 2016• Nine things we learned at Geneva 2016