Renault to target X-Trail with new large crossover
Captur, Kadjar and one other: growing Renault crossover range to get a seven-seat flagship rivalling Nissan's X-Trail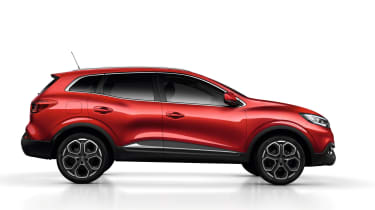 Following the unveiling of Renault's new Qashqai rival, the Kadjar, bosses have announced an even larger seven-seat crossover designed to take on the Nissan X-Trail is currently under development.
Designed to sit above the Kadjar in the range, the forthcoming D-segment crossover is coming but Renault bosses were reluctant to divulge any further information. So early is the development stage, a date has not yet been placed on its arrival.  
• Read the full story on the new Renault Kadjar here
"It's too early to say just yet," said Jerome Stoll, Executive Vice President, Chief Performance Officer at Renault. "Kadjar is part of a renewal plan, we are specialists in the multi passenger vehicle, we invented it, and now we are moving into the crossover.
I believe that Renault for the past two years now has been renewing the range with a number of products," Stoll continued. "They have much more attractive designs and the new cars are now very successful."
• Renault's X-Trail rival shapes up
As with the Kadjar, Renault is again likely to take advantage of its alliance with Nissan when it comes to developing the new D-segment crossover. The recently introduced X-Trail is not only expected to be a main rival, but will also provide a large portion of the newcomer's mechanical underpinnings, too.  
As for Renault's latest arrival, the Kadjar, bosses confirmed it shares up to 40 per cent of its running gear with the Nissan Qashqai. It runs on the same CMF architecture as its Japanese cousin and as a result, engines are also expected to mirror those in the Qashqai range. 
Now find out about the best 7-seat cars to buy now