Renault Kangoo Z.E. electric van gets battery boost for 124-mile range
A real world range of 124 miles is claimed for the upgraded Renault Kangoo Z.E. electric van thanks to new battery tech.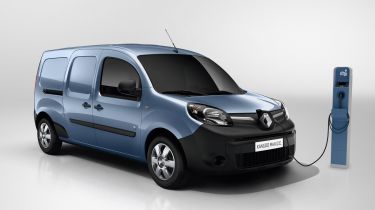 Following on from upgrades to the motor and battery tech on its ZOE electric car, Renault has announced similar measures to up the range of its Kangoo Z.E. electric van.
The new version of the Kangoo Z.E. is set to be revealed at January's 2017 European Motor Show in Brussels, Belgium, equipped with the Z.E.40 battery that debuted in the ZOE at the 2016 Paris Motor Show.
Renault now claims a 124-mile real-world range for the Kangoo Z.E. with the official NEDC range for the vehicle boosted from 106 miles to 168 miles. It's not quite on a par with the 250-mile NEDC range of the ZOE but it's good enough to give the Kangoo Z.E. the longest range of any model in the somewhat limited UK electric small van market. 
The Renault Kangoo Z.E. will be revealed at the 2017 European Motor Show on January 13 2017.
Would you consider buying an electric van for your business? Let us know in the comments section below...