New Toyota Prius 2016 review
The all-new Toyota Prius hybrid hits the UK, with a better drive and lower running costs
We may not have been big fans of the Prius before, but we are now. There's lots to admire in the engineering and technology, if not the look of the car. And it's hard not to be swayed by the numbers – it's not cheap to buy, but it will be cheap to run. It's comfortable, refined and easy to live with – and more than just a cabbies' favourite now.
Toyota's Prius kick-started our love affair with the hybrid, and quickly became the vehicle of choice for environmentally-concious celebrities, cab drivers, and anybody who wanted to cut their motoring costs without too much compromise. However, it''s never received the critical acclaim you might expect that it deserves. We've never really been fans.
So could this all-new model change things? We reset the trip computer and headed off for our first UK drive to find out if it can deliver on its promise to be better in every way than the previous model.
• Best hybrid cars on the market
You might not admire the new sharp-edged styling – better from the front, but a crazy collection of lines and angles at the back – yet you can't fail to admire the engineering that's gone into this new model. Everything has been analysed and improved for greater efficiency. Even those polarising looks are designed to smooth airflow for more mpg and lower CO2.
The engine, gearbox, battery and electric motor have all been revised. And the car sits on a brand, spanking new platform that will underpin a whole host of new Toyota models. A good start.
So are we now fans of the Prius? Well, yes. If you approach the car looking for something that will not only prove efficient and cheap to run, but be very easy and comfy to drive and to live with, you'll love it.
The new model feels more connected to the road than before – not in a hot hatch sort of way, but it doesn't hop over surfaces like the old one. While the ride isn't perfect, it's way better than before. The steering is improved, too; again, don't expect it to wow you with feedback from the front wheels, but it's light, direct and secure.
As before, the Prius will pull away silently in electric mode, and go a bit further on battery power than it used to. But when the engine kicks in, you'll barely notice it. And if you're listening to the radio, you probably won't hear it, either. You'll also be surprised how often this new car switches to driving on battery power.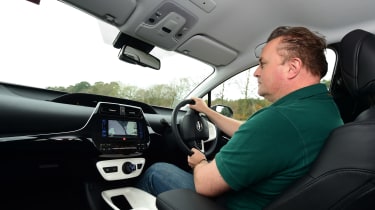 There's still a CVT auto box – again further optimised for efficiency – but unless you use the throttle like a switch, you really won't notice the engine's revs rise and gently fall.
Even the brakes have a well engineered feel to them. There's none of the grabbiness many hybrids have as the brakes harvest energy to send back to the battery. The Prius does that, of course, but perhaps because Toyota has been making hybrids for so long, it's managed to make the brakes work more progressively. So there's no excuse for cabbies not to do super-smooth stops.
That general calm is broken slightly by tyre noise – no doubt due to the optimised eco Yokohamas it wears. Another downside to the race for efficiency is the 'plink' rather than 'thunk' as you shut the doors. Making something really light have a quality feel is extremely difficult – and it shows.
The Prius' 'easy life' mantra is also apparent in the new interior. Quality has taken a big step forward with a slightly squishier feel to the dash top and other plastics (although it's still some way off a VW Golf), while visibility is good all around.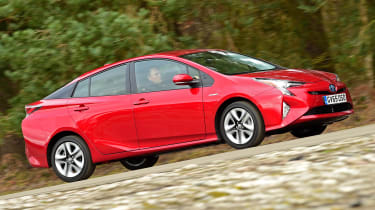 All the controls have been engineered for ease of use and longevity rather than a quality feel, but that adds to the relaxed nature of the car. Of course, there's the obligatory touchscreen for the multimedia system, plus the traditional centrally mounted high-up display for speed and efficiency data. The new platform means more room in the back and boot, although headroom isn't too generous and there's a step when you fold the rear seats.
And although our top-spec Excel model lists at £27,450, it's loaded with the latest gadgets to keep you safe and happy.
Tax bills, with emissions of 76g/km, will be low, but how did we fare in the real world? After zeroing the computer, we recorded 75mpg over mixed roads, which dropped to 65mpg when we returned to base via the motorway. Both short of the claimed 85.6mpg of this model, but still pretty impressive figures nonetheless.