"We're rearranging what Kia is for buyers in Europe"
Mike Rutherford chats with Albert Biermann, the man behind some legendary BMW M cars - who's now turning his talents to Kias product range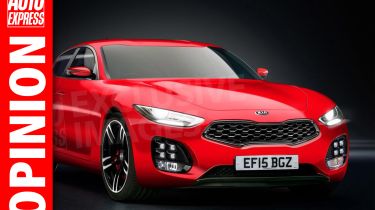 Kia requests my presence at a muggy, remote, high-security test track in East Asia. And it warns it had a confession or two to make. After a 19-hour door-to-door schlep (plus the return leg the following day), I tell myself this had better be bloody good.
And it is. The company concedes the Kia product range is being propped up by only three pillars: good value, great warranties and ever-improving vehicle designs. But it knows it needs a fourth. And it proves to me the process is already under way.
'Our next pillar - and we see it as a strong one - will be driving performance to match the appearance of our cars,' says Albert Biermann, the latest highly respected, German product guru to defect to Kia.
• New Kia GT saloon promises BMW-style dynamics
Uncle Albert is one of the world's top tuners. He was Mr 'M' at BMW. For three decades he occupied senior engineering roles in Munich, but he's glad to be out.
'The spirit and culture has changed. In the eighties and nineties BMW was motivated by engineering. Now it's more financially driven. So many employees are discussing financial situations,' Biermann insists.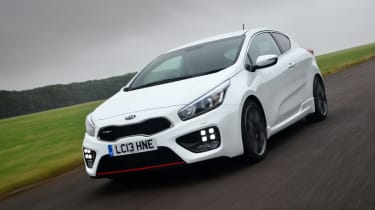 For this driving/engineering obsessive, countless meetings and arguments about corporate and departmental fiscal matters were 'impossible, crazy.' Instead of developing, road testing and fine-tuning products, he says 'I spent most of my time worrying about money. There were endless discussions going nowhere.'
Things couldn't be more different at Kia where Uncle Albert was recruited by multi-billionaire Eui-sun Chung, 45, who's about to be promoted to chairman of the Kia empire. Biermann is a realist. He's not trying to (and can't, even if he wanted to) transform Kia into a BMW. 'But I am of much more benefit here than there,' he says. 'In terms of driving character, Kias will find their own identity and spirit. We're clarifying and rearranging what Kia is for buyers in Europe.'
So, what is Uncle Albert's definition of the 'good-handling' Kias he craves? 'They need to be precise, forgiving, balanced, not too annoying and have a clear mission statement. We're spicing things up.'
And I have every confidence he will deliver these driver's cars. After all, his new employer has vowed to sell 100,000 cars a year to Brit buyers by 2020. And that should put Kia in the same sales league as BMW in the UK. The German firm won't be happy. Uncle Albert will be delirious.
Do you think Kia should be concentrating on driving dynamics? Let us know in the comments below...