Brexit and diesel concerns drive UK car production down 4.6 per cent
November figures show UK car production fell by 4.6 per cent last month compared to 2016, but exports rose 1.3 per cent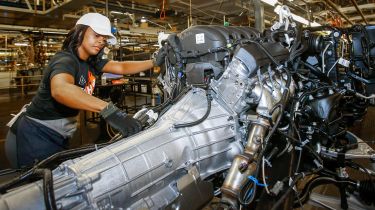 UK car factories produced 4.6 per cent fewer vehicles in November this year compared to 2016, new figures have revealed.
Data from the Society of Motor Manufacturers and Traders (SMMT) shows 161,490 cars were made in the UK in November 2017, down from 169,247 in the same month last year.
Of the UK-built cars manufactured in 2017, 24,276 were destined for UK buyers, meaning 28.1 per cent fewer cars were built for the domestic market in November 2017 compared to November 2016.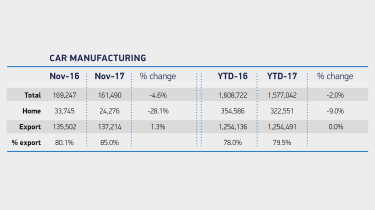 That decline was buoyed somewhat by figures for exported cars, however, with 137,214 vehicles made in the UK for export in November 2017 - a 1.3 per cent increase over November 2016, and equivalent to 1,712 more vehicles.
Meanwhile, year to date figures show almost 1.58 million cars were made in the UK up to November 2017, a fall of just 2 per cent over the same period in 2016 – though 9 per cent fewer cars were built for domestic buyers over the same period, echoing November sales figures showing new car sales down 11.2 per cent.
Commenting on the data, SMMT chief executive Mike Hawes, said: "Brexit uncertainty, coupled with confusion over diesel taxation and air quality plans, continues to impact domestic demand for new cars."
Hawes went on to say it was "good to see exports grow in November", but warned the motor industry requires "clarity" regarding EU transition agreements to ensure "future growth and success" in the sector, which accounts for 13 per cent of all exported UK goods.
Is the UK car industry showing resilience or weakness in the face of Brexit uncertainty? Let us know what you think in the comments…