'The SsangYong Rexton is pretty much a Swiss Army knife on wheels'
Mike Rutherford reflects on the unglamorous, durable SsangYong marque compared to the likes of Land Rover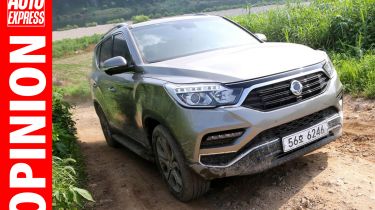 Grabbed an £8 cup of lukewarm tea, plus a local broadsheet newspaper in a Seoul hotel cafe last Friday. 'Partial strike adds to Hyundai Motor headaches' was the first headline. 'Korea's auto industry faces crisis' another one screamed.
But those alleged problems apply more to giants like Hyundai-Kia than minnows such as SsangYong. This is a small, maverick, underdog firm that knows its tiny place in the colossal automotive world.
SsangYong's unapologetic thing is unglamorous, durable, value-for-money, long-lasting workhorses that are so niche there's likely to be only one – if that – in every town. This makes them borderline exclusive – a bit like Ferraris... and Infinitis.
SsangYong (meaning Double Dragon) is confident without being cocky. And it's realistic enough to admit that although it may not have a showroom near you, it does possess an army of professionals who'll bring products to the driveways or workplaces of prospective customers. Clever, that.
It'll turn away nobody, but it seems happiest with horsey-types, vets, farmers and salt-of-the-earth folk who need to tow heavy loads. Drivers who just crave something different are also in the mix. It's a bit corny to call SsangYongs affordable, do-anything, go-anywhere Swiss Army knives on wheels. But that's pretty much what they are.
The company has a point when it says that although a new one might cost around half as much as an equally new Land Rover, the SsangYong won't be half the product with half the capabilities. Far from it. Another way of looking at all this is to remember that a high-spec, surprisingly handsome/durable/well equipped, fresh-from-the-factory all-new Rexton with a five-year warranty might cost about the same as a secondhand, out-of-warranty Jeep Grand Cherokee or Land Rover Discovery.
Talking of the latter, it's now less of a workhorse earning its keep out in the field, more of a luxury car for upmarket urban streets, SsangYong says. "The new Discovery; it's become too posh to pull," company insiders cheekily allege. And with that Disco coming in as high as £59,000, the Rexton's a comparative steal starting at just £27,500. What's more, the SsangYong feels tough and willing enough to pull all day and all night. Best all-new car of the summer? Er, no. Best value for money? Possibly.
Do you think SsangYongs will replace Land Rovers in fields and rural roads up and down the country? Let us know in the comments below...