Keyless car crime up as gangs target vans
New wave sees vehicle crime rise by eight per cent in London with BMW, Land Rover, Ford and Mercedes targeted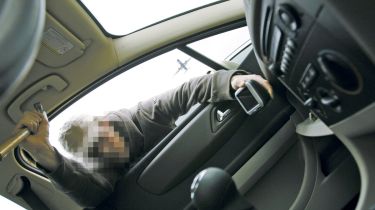 Car crime in London is up eight per cent with gangs increasingly targeting keyless entry systems on vans, the Metropolitan Police has said.
On average, thieves are stealing 17 vehicles a day in the capital as a car hacking wave sweeps across the city. And vans are the number one target with Ford Transit, Ford Transit Connect and Mercedes Sprinter models the most commonly stolen using the keyless method.
More than 6,000 cars and vans were stolen in the capital using the technique last year, around 42 per cent of all vehicle thefts. BMWs and Land Rover models - including Range Rovers - are also popular.
• Range Rover owners refused insurance due to theft risk
Gangs use simple devices purchased online to bypass or hack into onboard electronic ignition systems although sometimes they simply tow vehicles away. The Met said it has evidence the stolen cars are driven to the Home Counties where they're stripped before being shipped abroad. Many end up being sold in Africa.
East London boroughs are hardest hit by car thefts with Redbridge, Newham and Havering all in the top three. Kensington & Chelsea, where some residents have complained of being persistently targeted by keyless theft gangs, comes seventh in the London borough rankings.
The force said it was working closely with car manufacturers to work out methods of combating the technique but added that simple methods can foil the thieves. Police are advising motorists at risk to use steering or gearstick locks, always double check vehicles are locked when leaving them and fit tracker systems.
• If I was PM... Mike's Motoring Manifesto
Detective Chief Superintendent Carl Bussey, lead for Operation Endeavour which has been launched in response to the figures, said: "We're working with the motoring industry to design out the crime, and we're asking owners to take steps to protect their vehicle like their do their home. Steering wheel locks, immobilisers and tactics like parking in well-lit areas are the motoring equivalents of home security.
"These people currently view keyless vehicle theft as a low-risk, high-return crime, with the most valued motor engines fetching anything up to £1,000 when sold on the black market, and entire vehicles making up to £10,000."
BMW fixes in-car security flaw
BMW says it's fixed a security flaw that could have allowed hackers to unlock doors of up to 2.2 million Rolls-Royce, MINI and BMW models.
The German manufacturer said officials at the country's motoring association ADAC had identified the problem which affected cars equipped with the company's ConnectedDrive software using on-board SIM cards. BMW owners can use the software and SIM cars to activate door locking mechanisms as well as a range of other services including real-time traffic information, online entertainment and air-conditioning.
• BMW owners offered fix for high-tech theft
The security risk occurred when data was transmitted, BMW said, adding it did not impede the car's critical functions of driving, steering or braking. BMW said it was not aware of any examples where the data had been used to compromise the security of a vehicle. Although, theoretically, hackers could have accessed the SIM card and operated functions controlled by it.
Have you been a victim of keyless car theft? Let us know in the comments section below...