Motorsport Moments 
We look back at the greatest moments in motorsport down the years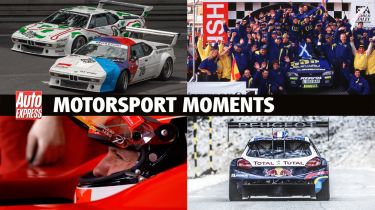 Motorsport is all about moments; places and times where driver bravery and brilliance combine with engineering excellence and the essential slice of luck to produce magic. It's the stuff that hooks fans, keeping them coming back for more and the history of motorsport, down the years and across the disciplines, is steeped in it.
Formula One, endurance racing, rallying, touring cars, GT racing, every flavour of motorsport has its legendary drivers, cars, engineers and performances and today we have well over a century of them to look back on. It made the selection of our greatest motorsport moments an incredibly difficult task but our judges stuck to it and the results are in these pages.
These Motorsport Moments represent our pick of the definitive moments that have defined the sport we love in its many forms. You might disagree with some of them but there's a comments section below for you to voice your views and suggest the moments that have shaped your own passion for motorsport.
You'll find words and images for each of the great moments we've selected here and we'll be adding more unforgettable moments to the series over the coming weeks...