Ford Mustang Mach-E gets over-the-air software updates
Ford's "Power Up" software tweaks will add routine improvements to the Mustang Mach-E's infotainment system and connected technology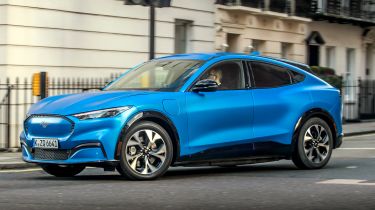 Ford has launched a new over-the-air software update scheme for the Mustang Mach-E, called "Power Up." The programme will be rolled out across the US first, although Ford has said that the features will eventually make their way onto European cars.
Ford says its new update programme will target customer preferences and key system bugs, to provide the most relevant improvement to the Mach-E's infotainment system. The brand also says that the updates will be "invisible" to drivers.
Minor software tweaks will take place in the background, while major updates (which require system reboots) can be scheduled to take place overnight. If the car needs to be used when an update is ready to be installed, it will continue to operate on the old software until a convenient time for the update arrives.
Shortly, European Mach-E drivers will get Ford Sketch, which is an application for the EV's infotainment system which allows touchscreen drawing and simple gaming when the vehicle is parked. The infotainment system will get a digital owner's manual, too.
Ford will also introduce a couple of new remote services, including a remote vehicle setup function, which will allow drivers to preset radio stations and navigation instructions, as well as tracking battery usage and journey logs.
The Mustang Mach-E's infotainment system will also get an improved navigation system with conversational voice recognition and an internet-based search function. The screen's Apple CarPlay gets a revamp, too, with turn-by-turn navigation for the instrument cluster.
Mark Harvey, Ford's Director of Enterprise Connectivity, said: "Software updates are common across billions of connected devices but not yet for vehicles. Ford Power-Up software updates will change that by quickly bringing it to millions of people.
"We invested in more seamless technology so updates can happen while you're sleeping, making your next ride a better experience."
Now read all the latest news on Ford's planned mini Mustang Mach-E electric car…