70 years of Porsche sports cars marked by 2018 Goodwood Festival of Speed partnership
The launch of the Porsche 356 to be marked at Goodwood Festival of Speed 2018; passenger rides in all-new Cayenne also offered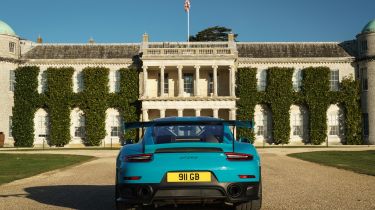 Porsche is celebrating the 70th anniversary of its first ever production car, the 356, by partnering up with the Goodwood Festival of Speed. The 2018 Festival of Speed runs from 12 to 15 July. 
The tie up will see Porsche feature on the Festival of Speed's iconic central sculpture for a third time, while a dedicated segment will be given over to the marque on Goodwood's hillclimb, and a selection of Porsches will be dotted around the festival grounds.
The German sports car manufacturer's models first featured on the Festival of Speed's central display in 1998 when it celebrated its 50th anniversary. Then, in 2013, the half-centenary of the 911 was marked with the same honour. The festival's 2018 display, while yet to be revealed, is likely to pay homage to the 356.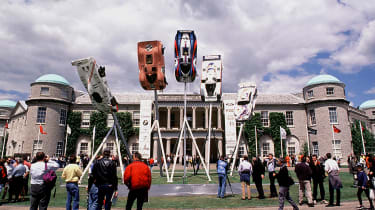 As a two-door, rear-engined exclusive sports car offered either as a coupe or convertible, the 356 of 1948 arguably set the company's direction for several decades to come, and remained in production in various guises for almost 20 years.
In addition to the central display, the 2018 Festival of Speed will see members of the public offered passenger rides in the new Porsche Cayenne SUV, while race car simulators, a "never- before-seen parade" of Porsches, and "models that provide a glimpse into the future" are also promised.
Announcing the 2018 partnership, Charles Gordon-Lennox, the Duke of Richmond, the Earl of March, owner of Goodwood House and founder of the Festival of Speed, said: "This year Porsche will become the first manufacturer to create the central display at the Festival for the third time, underlining the huge contribution from this iconic manufacturer of world-beating racing cars and road cars."
Alexander Pollich, MD of Porsche Great Britain echoed those remarks: "We thought long and hard about how best to celebrate the 70th anniversary of our sports car and how we could share this with enthusiasts, Porsche fans and owners here in the UK. The Goodwood Festival of Speed will be the perfect setting".
Find out more about the Goodwood Festival of Speed here...