Ford RS: a history of the fastest Fords - Escort to Focus
If all goes to plan, the iconic RS badge will be back on the Ford Focus in 2016. We look back at some of the best Ford RS models
Ford's legendary RS badge is back with a bang with the new Ford Focus RS and that news will be music to many Fast Ford fans' ears. To celebrate this, we've done our homework and gone through the history books to find some of the key cars that helped make the Ford RS badge so popular.
If you haven't yet, take a look at our 2016 in-depth Ford Focus RS review, and even watch deputy news editor Jonathan Burn get behind the wheel in our video review.
Ford Escort RS1600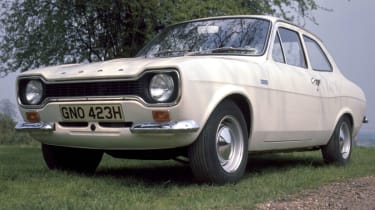 The Ford Escort RS1600 was the car that started the Ford RS phenomenon. Born as a result of Ford's success on the international rally scene with the Ford Escort Twin Cam, the Ford Escort RS was conceived out of a collaboration between Ford Advanced Vehicle Operations (AVO) - the division of the company that built performance Fords - and the Rallye Sport (RS) dealer network that marketed them.
The engine in the Ford Escort RS1600 was based on the 1,557cc Kent motor in the Twin Cam, but Ford AVO had teamed up with tuners Cosworth to improve the twin-cam engine by developing a 16-valve 1,599cc cylinder head to keep Ford racking up successes on the international rallying stage.
The Ford Escort RS1600 was now good for 120bhp - an outstanding figure for 1970 when the first RS1600 rolled off the production line at Ford's Averly plant in south Essex.
The Escort RS brought performance to the masses thanks to a £1,447 pricetag, plus a top-speed of 113mph from a car that weighed just 870kg.
The Ford Escort RS1600 paved the way for other iconic Ford Escort RS models such as the first generation Escort RS2000 and the ultra-successful RS1800 World Rally Car.
The RS1600 is just one car that features on Ford's amazing animated GIF image below, which showcases every fast RS Ford... ever!
Ford RS200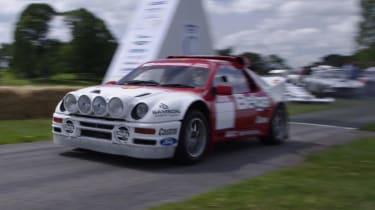 The Ford RS200 was a four-wheel drive sports car that was sold to homologate Ford's famous RS200 Group B WRC car.
Designed to comply with the FIA's homologation regs for the 1984 WRC season, 200 road-going versions of the RS200 were produced and powered by a turbocharged 1.8-litre engine. The powerplant generated 250bhp, and in race form, could be tuned to put out between 350 and 450bhp. The Ford RS200's fibreglass body was made by Reliant – a firm more renowned for its three-wheel cars than anything else.
The Ford RS200 was fitted with a four-wheel drive system to allow it to compete with Group B rivals like the Audi Quattro and Peugeot 205 T16 on the rally stages. However, turbo lag and a poor power-to-weight ratio rendered the Ford RS200 less competitive than Ford would have liked.
Following a series of Group B fatalities - one of which saw co-driver Michel Wyder killed - the FIA canned Group B and along with it, Ford consigned the road-going version of the RS200 to the history books.
Ford Sierra RS Cosworth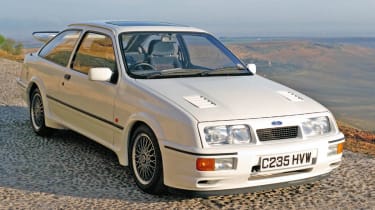 The Escort wasn't the only mass-produced Ford model to get the RS treatment. Launched in 1986, the Ford Sierra RS Cosworth was a very different looking car to the standard Ford Sierra family saloon thanks to its RS body kit, large rear-spoiler and modded front grille and bumper.
Partnership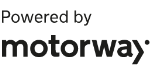 Need to sell your car?
Find your best offer from over 5,000+ dealers. It's that easy.
The Ford Sierra RS Cosworth was powered by a 16-valve 2.0-litre engine. With the help of a Garrett T.03b turbocharger and Weber-Marelli fuel injection, the Ford Sierra RS Cosworth was good for 204bhp through the rear wheels and a top-speed of 149mph. A price tag of just under £16,000 also meant it was a proper bargain supercar.
Like the Ford Capri RS the Ford Sierra RS Cosworth was an excellent racing car, and it enjoyed successes in rallying and touring car racing.
Ford Escort RS Cosworth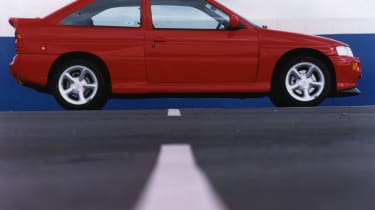 Based on the outgoing Ford Sierra RS Cosworth platform, the Ford Escort RS Cosworth was introduced in 1992 with a simple premise - give Ford its first World Rally Championship since 1979. While it didn't manage this, it still racked up eight wins as a Group A car between 1993 and 1996 and two more as a WRC car in 1997-1998.
Powered by a 227bhp 2.0-litre Cosworth tuned engine with a Garrett turbocharger, the permanent four-wheel drive Ford Escort RS Cosworth was good for 147mph. Despite going out of production in 1996, the Ford Escort RS Cosworth - or "Cossie" as it's affectionately called by enthusiasts - is still a firm favourite among RS fans today, thanks to its bulging body-kit, excellent performance and huge whale-tail spoiler on the back.
• Best hot hatchbacks to buy now
While it may feel a tad slow compared to some modern-day mega hatches, the Ford Escort RS Cosworth was a giantkiller at the time: it had the same 0-60mph time of 5.7 seconds as Ferrari 348 and Auto Express' Editor-in-chief Steve Fowler recently commented, "this was the hottest of hot hatches and it surely couldn't get any hotter."
Admit it, you'd still have one, wouldn't you?
Ford Focus RS Mk1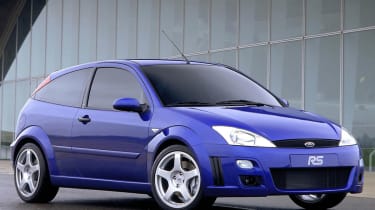 When it was launched in 2002, the first Ford Focus RS was the first Blue Oval car to wear the fabled RS badge in six years after the demise of the much loved Escort RS Cosworth.
Available as a limited run until late 2003, the front-wheel drive Ford Focus RS was powered by a 2.0-litre 16-valve Duratec engine that produced 212bhp and had a top-speed of 144mph. It was also available in one colour - the striking Imperial Blue - and was off-set with a body kit that was influenced by the Ford Focus WRC car. Huge 18-inch O.Z. alloys wheels completed the effect.
Ford also carried the Focus RS' aggressive styling over to the interior, fitting it with Sparco race-style seats and blue-black trim to match the exterior. In terms of handling, the first generation Ford Focus RS didn't disappoint, and the motoring press praised it for its impressive performance, despite it being down on power compared to WRC-inspired rivals such as the Subaru Impreza and the Mitsubishi Lancer Evo.
Ford Focus RS Mk2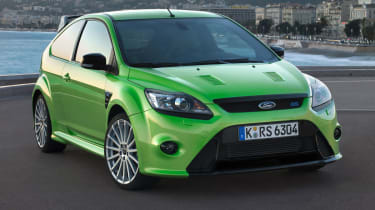 After the original Ford Focus RS went out of production at the end of 2003, Ford RS fans were once again made to wait another six-years for the next fast Ford.
Initially announced in 2007, the Ford Focus RS Mk2 hit the road in early 2009. Similar to its predecessor, the Ford Focus RS Mk2 featured a conventional front-wheel drive layout, but it was powered by a version of the Volvo-sourced 2.5-litre Duratec engine that also powered the 225bhp Ford Focus ST.
Tweaks to the engine saw the Mk2 Ford Focus RS produce 301bhp, which propelled it to 62mph in 5.9 seconds and gave it a top speed of 163mph. It's no surprise then that Ford claimed it was as close to driving a road-going version of its Ford Focus WRC - the car that claimed the WRC manufacturers' titles in the 2006 and 2007 - as you could get.
The Ford Focus RS still looks the part, even half a decade on, thanks to its large rear diffuser, aggressive RS body kit and dramatic rear spoiler. The second generation Ford Focus RS was also characterised by three lairy exterior colours: Ultimate Green, Frozen White and Performance Blue.
The Mk2 Ford Focus RS also paved the way for the Focus RS 500. Launched in 2010, the Ford Focus RS 500 was a limited edition (500 were made, with 101 destined for the UK market) Ford Focus RS, which was only available in matte-black. It was also the fastest Ford Focus ever produced thanks to tweaks by Mountune, which increased power output to 345bhp and a top speed of 165mph.
Have you ever owned a Ford with an RS badge? Which would you choose if you had the chance? Tell us in the comments section below. And don't forget to take our fast Fords quiz...