Cadillac to bring Escalade and ATS to UK
American premium brand plans European product offensive over next ten years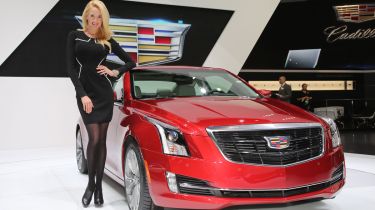 Strong American brands have often struggled for success in Europe, but at the Geneva Motor Show Cadillac revealed ambitious plans for a new expansion here.
Apparently due to roll out steadily over the next ten years, the product offensive will start with the launch of the all-new Escalade SUV and svelte ATS coupe in right-hand drive in selected markets in continental Europe this year.
The Escalade will come in two different guises. Both the standard car and the stretched 'ESV' version come with room for seven or eight passengers, but the ESV model adds an extra 500mm to the overall length and a bigger boot. In the US it comes with a 414bhp V8 engine and switchable four-wheel drive.
The standard car is already the same length as the long-wheelbase Range Rover and slightly wider too – so the ESV model could be a tight fit on small UK roads.The brand's director of emerging markets Jim Vurpillat told us on the stand:
"We currently have one dealer in the UK, and the new Escalade will be available to buy in left hand-drive this year, but we won't expand the network until we have diesel power trains and right-hand drive – but they are both in the plan."
When asked how long that process might take, he said: "We are talking about in at least three years, as we gradually have the right tools for that market. There is no point in selling in a market that we don't have the right cars for yet."
Apparently the company has learnt its lesson from the last time Cadillac tried to expand in Europe and Vurpillat assured us that things would be different this time around: "Europe is a big place, and each market has a lot of different needs so we are planning to target key cities rather than countries – we might have a better chance in Milano than in Rome for example - and that approach means we can really target the places we can spot genuine sales potential."
Later in the show we spoke to Karl-Thomas Neumann, the boss of Opel/Vauxhall in Europe, who confirmed that Cadillac would return, and suggested that Detroit would produce right-hand drive models if there was enough success in Europe.
He told Auto Express: "From a design perspective I certainly see an opportunity for Cadillac – most premium marques are all starting to look the same, and they offer something different, which could be a real asset in Europe."