Hyundai Kona Electric - Best electric cars
Electric version of Hyundai's family hatch is just as convincing as a Leaf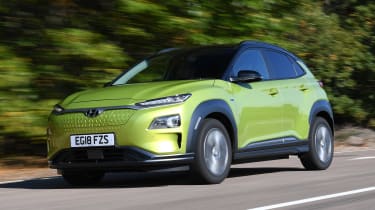 Hyundai is pushing forward on multiple fronts in the development of alternative fuel vehicles. The Ioniq hatchback comes in petrol-electric hybrid, plug-in and full EV guises, while Hyundai's fuel cell technology is pushing on with hydrogen power, too. But the latest addition to the range, the Kona Electric, stands out and promises to be a game changer for electric car tech.
For starters, the Kona Electric is offered with 39kWh or 64kWh battery packs, so there's a realistic range of 300 miles on the larger version, meaning even more people can take advantage of its electric drive. But more importantly prices start from just under £30,000, before the Government's Plug-in Car Grant, which makes it one of the most competitively priced EVs on sale.
Add in funky crossover looks, a practical five-door body and plenty of kit, and the Kona could be a game changer for the EV class, let alone Hyundai's own ambitions.
Best electric cars to buy 2019