Rapid response fuel bikes deployed on M5 to rescue stranded cars
Since work began on the Oldbury Viaduct, fuel bikes have provided stranded motorists with vital fuel during congested periods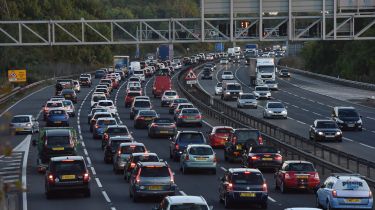 Highways England has started using rapid response fuel bikes on a section of the M5 to combat congestion caused by motorists running out of fuel.
The fuel bikes are there to assist stranded motorists on the M5 Oldbury Viaduct, which is under going major repairs. The contraflow system put in place due to the ongoing repairs has narrowed this section of the M5 to two lanes with 30mph speed limit, which has caused several motorists to run out of fuel.
• Highways England trials roadside bins
There have been 17 fuel-related incidents since the 1 August when the contraflow system came into effect, causing further tailbacks and delays for motorists.
"Since the contraflow came into effect, we've already seen a number of fuel-related breakdowns in the roadworks section," according to Highways England project manager Alastair Warnes. "On the very first day of the contraflow coming into effect, the first breakdown was caused by someone that had run out of fuel."
When roadworks began, motorists were urged to use alternative routes such as the southbound link between the M5 and M6 that avoids Birmingham. The M42 also provides alternative routes for rush-hour commuters.
Both M42 and M6 feature dynamic hard shoulders that have been opened earlier than planned to ease traffic caused by the M5 Oldbury Viaduct repair works, which will continue until autumn next year.
Have you been affected by the roadworks on the M5? Tell us about your experience below...