277mph Koenigsegg Agera RS is the new fastest car in the world
Koenigsegg has claimed a new 277.9mph world production car speed record with its Agera RS hypercar. Watch the video.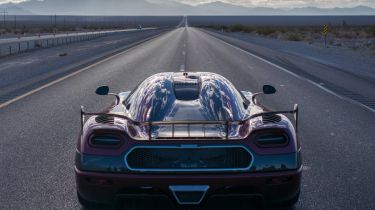 The world production car speed record seems to have changed hands again thanks to a 277.9mph run on a closed public road in Nevada by the Koenigsegg Agera RS.
The two-way average of 277.9mph was achieved by the Agera RS on an 11-mile stretch of road in Nevada and is 12mph faster than the existing mark held by the Bugatti Veyron Super Sport. It's also more than 7mph quicker than the speed set by the Hennessey Venom GT that did not make the record books as it was only achieved in one direction.
Koenigsegg's attempt at the word record took place on an 11-mile section of the road between between Las Vegas and Pahrump in the Nevada desert that was specially closed by the authorities. The closure was set to be in place for two days but the Koenigsegg team broke the record early on the first day.
Koenigsegg's factory test driver Niklas Lija drove Agera RS with its 1,380bhp, 5.0-litre turbo V8 to set the new record. After one sighting run he made his first speed attempt, turned around and came back. The result was a new world record two-way average of 277.9mph. Lija is said to have hit over 284mph in one direction.
All that remains is for the world speed record, which was recorded and verified by Racelogic, to be officially recognised. How long the mark will stand for, however, is anyone's guess with Henessey having just unveiled its new Venom F5 hypercar amid claims of 300mph capability and Bugatti having yet to put the Chiron to the test in anger.
The Chiron is claimed to have a top speed limited to 261mph, but Bugatti has hinted at a potential for 310mph. Michelin is working on a tyre capable of withstanding the forces that would be generated when the 1,479bhp, 1996kg car approached the 300mph barrier and, if it's successful, we could see more production car world speed record fireworks in the near future.
How fast can the world's fastest production cars get? Let us know your thoughts in the comments...