Brussels low-emission zone targets older cars
Older diesel cars effectively barred from entering Belgian capital, with petrols targeted from 2019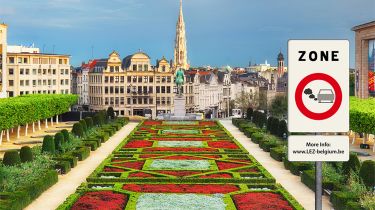 Older diesel cars have been effectively barred from entering Brussels under strict new emissions controls, with petrol models to be targeted from 2019.
The Brussels low emission zone came into force on 1 January 2018, and means any Euro 1 or Euro 0 diesel car – effectively those built prior to 1997 – is barred from entering a 100-square-mile area unless a "special daily ticket" is purchased. Prices for these tickets have yet to be confirmed, however, as a grace period is effective until June 2018.
The Brussels low emission zone will become increasingly strict over the coming years, with pre-Euro 3 diesels and pre-Euro 2 petrol petrol cars (those made prior to 2001 and 1997, respectively) targeted from 2019.
Tighter regulations are also due in 2022 and 2025, though scooters, school buses and 'vintage' vehicles over 30 years old are excluded.
The Belgium low emission zone (LEZ) operates via ANPR (automatic number plate recognition) cameras 24 hours a day, seven days a week - unlike London's emissions-based T-Charge, which operates Monday to Friday between 7am and 6pm.
All drivers entering the Brussels LEZ must register their vehicles online, and show a windscreen sticker displaying whether they are allowed to enter the zone or not. Penalties for non compliance range from €150-350 (£130-315 approx).
Is the Belgium Low emission zone a good way to improve air quality? Let us know what you think below...