Fewer children exposed to cigarette smoke following in-car smoking ban
Smoking in the car with children was banned in 2015; research shows this has led to a 4.1% decrease in children exposed to cigarette smoke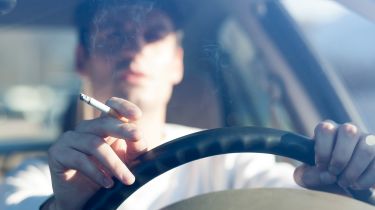 Four per cent less children are being exposed to cigarette smoke following the introduction of a ban on smoking in the car with children.
In 2015, the Government banned drivers in England and Wales from smoking in the car when any of their passengers are under the age of 18; Scotland adopted the same rules the following year. Now, new research suggests this has led to a 4.1 per cent decrease in the reported number of children exposed to cigarette smoke.
• Smoking could knock £2,000 off your car's value
The law only applies to private vehicles enclosed wholly or partly by a roof; convertibles with the roof down do not count. It is an offence for drivers - including those on provisional licences - not to stop any other occupants of their vehicle from smoking if a minor is present. The penalty for breaching the rules is a £50 fine. The ban does not apply to e-cigarettes.
Imperial College London analysed 16,000 responses from two large health surveys of school-aged children in England and Scotland. These surveys relied on children self-reporting what they were exposed to by asking them questions such as: "In the past year, how often were you in a car with somebody smoking?"
The results showed an overall downward trend in the proportion of children aged between 13 and 15 who reported being exposed to cigarette smoke.
Dr Anthony Laverty, from the School of Public Health at Imperial College London, said: "Like the smoking ban introduced to pubs and restaurants, banning smoking in cars increasingly 'denormalises' the act of smoking for children.
"This has a dual effect, not only reducing the amount of second-hand smoke they are exposed to, but also reducing the amount of smoking they see. Given how vulnerable children are to second-hand smoke, reducing their exposure to cigarette smoke will likely result in improved health."
Dr Nick Hopkinson, from Imperial's National Heart and Lung Institute, added: "We know that smoking in enclosed spaces, such as a car, can be harmful to the health of others - particularly children, who may be more susceptible to respiratory conditions.
"But, there is also an association with smoking uptake to take into account. If children see people smoking around them, they are far more likely to take up the habit themselves. Our study shows that policies such as a public ban on smoking in cars help to break that cycle and help to reduce the harms associated with tobacco."
Will the ban on smoking in cars with children affect you? Tell us your thoughts in the comments section below...