Stirling Moss Maserati 450S on sale for £4.5m
RM Auctions to sell 1956 Maserati 450S Prototype driven by Stirling Moss, expected to cost up to £4.5 million at auction
A 1956 Maserati 450S Prototype, famously driven and crashed by Stirling Moss, is set to be auctioned in Monaco next month for between £3.3 million and £4.5 million.
Originally built as a six-cylinder 350S for the 1956 Mille Miglia race, the car was badly damaged when a brake failure forced Moss and his navigator off the road just outside Rome, narrowly avoiding a ravine in the process.
Following a return to the Maserati factory for repairs, the 350S was transformed into a prototype for the 450S programme, featuring an extended wheelbase to accommodate a new 5.7-litre V8 engine. A new Fantuzzi body was also fitted, and the car was tested at the Swedish Grand Prix in August 1956.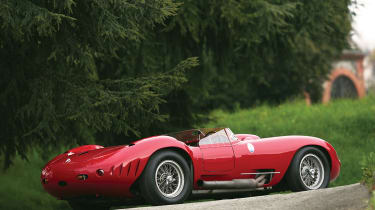 After several further outings, Maserati retired the 450S Prototype into storage, from which it was sold without an engine in 1965. A new Ferrari transmission and Corvette V8 engine were fitted to make the car roadworthy, before it was exported to the United States.
Imported back to its native Italy in the early 80s, a full restoration returned the car to 450S specifications in 1987, maintained to the present day save for a redesigned transaxle. According to RM Auctions, it's due to go on sale in May alongside a 1966 Ferrari 275 GTB/C and a 1967 Ferrari 330 GTS.