Full-size Darth Vader Star Wars car revealed
Hot Wheels has produced a full-size car based on Darth Vader from Star Wars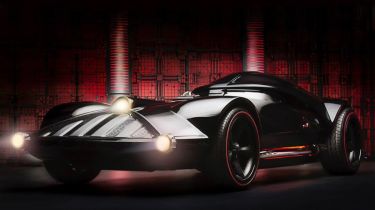 With the return of the Star Wars film series just over the horizon, toy car maker Hot Wheels has put together a range of themed models to cash in on the new films. That's not all, though - the company has also built a full-size version of the Darth Vader car, based on the iconic heavy breathing baddie.
It's unlikely that Darth Vader would need a car, given his access to a variety of spaceships and more importantly his death at the end of the film "Return of the Jedi". That hasn't stopped Hot Wheels, however, with the brand designing a full-size car based on Vader's most memorable features.
The car features a carbon-fibre nose shaped like the famous Darth Vader helmet, custom red line tyres and even "heavy breathing sounds" to really hammer home that Darth Vader connection. It also features a version of the 6.2-litre V8 engine from the previous-generation Chevrolet Corvette, producing 526bhp.
The car will be on display at the San Diego Comic-Con event on 23 July in California, USA.