Our best ever car videos
With over 100million views of our car videos on YouTube, we look back at our most popular films ever...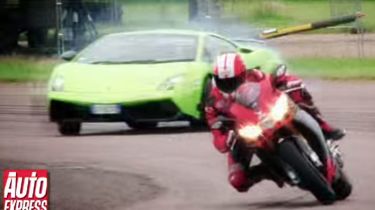 We love making videos about cars here at Auto Express - it's a great way to share the thrill-packed experience of driving not to mention our love of things with four wheels and an engine. It seems you love watching our videos too, as we've just racked up over 100million views on our YouTube channel.
Plus, with over 260,000 subscribers on YouTube, we've got plenty of people who want to watch the frequent track battles, reviews, news and features videos that we upload to our channel each week.
Some of our videos have amassed huge viewing figures and we've listed them below in out top 10 best car videos. These videos have all had hundreds of thousands of views since being posted, with some managing totals in the millions.
So here are the top ten videos on the Auto Express YouTube channel, ranked by their total video views. There are some great videos in the list, from the exhilarating car vs bike track battles to our fun day with Honda's Asimo robot.
Scroll through the videos in chronological order using our interactive timeline below or watch them further down this page in order of popularity...
5.7m views: We pit the new M5 against BMW's hottest superbike.
2. Nissan Juke-R vs GT-R track test
3.8m views: We pit the Nissan Juke-R against the GT-R.
3. Lamborghini LP570-4 Superleggera vs Aprilia RSV4 superbike
3.6m views: Lamborghini LP570-4 Superleggera takes on the Aprilia RSV4 Superbike.
4. Honda's Asimo: the penalty-taking, bar-tending robot
1.5m views: We spent the day with Honda's advanced robot Asimo to see what he can do.
5. BMW M4 vs Audi RS5: epic track battle
1.3m views: We test the BMW M4 against the benchmark-setting fast coupe, the Audi RS5.
6. Audi RS3 Sportback v BMW 1 Series M Coupe Drag Race
1.1m views: Pocket rockets from BMW and Audi go head-to-head in a drag race shoot out over the quarter mile. But which is fastest?
7. What's a hot lap with Kimi Raikkonen in a Ferrari F12 really like?
1m views: Our man buckles-up for a super-sideways blast around Fiorano with Formula One iceman Kimi Raikkonen…
8. Lamborghini Aventador vs Ferrari FF drag race
950k views: We went along to Race the Runway in Edinburgh to see a handful of amazing drag races.
9. Winter tyres vs summer tyres: the truth!
870k views: We put winter and summer tyres to the test in this useful video.
10. New Mercedes A-Class driven: verdict on stylish hatchback
860k views: Our first drive review of the Mercedes A-Class, from three years ago.