200bhp Honda Mean Mower sets new Guinness World Record
The second generation Honda Mean Mower has set a new world record for 'the fastest 0–100mph for a lawn mower'
Honda's Mean Mower Mk2 has claimed a new Guinness World Record for the fastest 0–100mph sprint for a lawn mower.
The Japanese brand's tuned HF2622 Lawn Tractor set the bar at 6.29 seconds at the Dekra Lausitzring raceway, Germany, piloted by W Series racing driver Jessica Hawkins.
• Bikes, mowers and robots: hands-on with Honda's non-car products
The Mean Mower is powered by a naturally-aspirated 999cc four-cylinder petrol engine, lifted from the Honda CBR1000RR Fireblade SP motorcycle. It produces 200bhp and 116Nm of torque; enough to furnish the 140kg lawn mower with a 0–60mph time of under three seconds, a top speed of 150mph and a power-to-weight ratio of around 1000bhp per tonne.
Like the old model, the second generation Mean Mower was built by Honda's British Touring Car Championship partner, Team Dynamics. For the attempt, the engineering firm fitted the lawn tractor with a bespoke chassis, uprated titanium coated brakes, a custom-made exhaust system, a Kelgate steering rack, a six-speed sequential gearbox and a unique Cobra race seat.
Guinness World Records stipulated that to claim the record, Honda's Mean Mower must still be able to cut grass, which it does thanks to a pair of 12V electric motors and carbon fibre cutting blades. Guinness also insisted that the record-setting vehicle must 'intrinsically look like a lawn mower,' which Honda achieved by keeping the lawn tractor's body panels and grass box.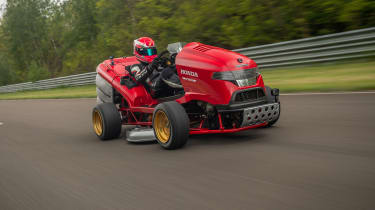 Back in 2014, the original Mean Mower (a humdrum HF2620 lawn mower) mustered a top speed of 116.57mph, thanks to a 1,000cc, 109bhp V-Twin engine plucked from a Honda Firestorm motorbike. We managed to get our hands on it, pitting it up against Honda's then British Touring Car Championship entry at Rockingham.
Dave Hodgetts, Managing Director of Honda (UK) comments: "The original Mean Mower was an incredible machine, but this time we've taken it to a whole new level with version two. After taking the top speed record in 2014, we wanted to do something a little different by setting an all-new record for acceleration."
Read more about Honda's wide world of everything mechanical here...