Best car videos 2022: watch our highlights
Enjoy the best car videos of 2022 from the Auto Express team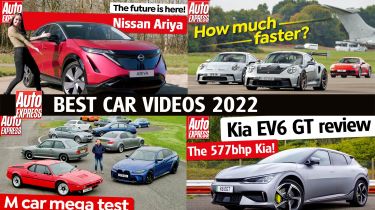 We pride ourselves on covering all corners of the automotive world here at Auto Express, and in 2022, that's exactly what we did. Across our YouTube channel and the channels of sister titles Carbuyer and DrivingElectric, we jumped in everything from family EVs to hot hatches and classics to bring you the cars that matter.
Our videos racked up over 10million views in 2022 and we churned out a vast array of different kinds of films from sensible car buying advice to slightly less sensible track battles and challenges. There should be something for every car fan and car buyer on our channels so like, subscribe and enjoy our highlights of the year below…
Kia EV6 GT: drift mode, and acceleration test
It's often said that today's ferociously powerful EVs are too quick for the road, so we took the EV6 GT to a circuit to stretch its legs. Video producer Yousuf Ashraf teamed up with Nicola Hume for a day of full-bore testing, challenges and powerslides. With drift mode enabled, the Kia's rear tyres stood no chance of applying torque to the ground; in fact, they were incinerated after a couple of corners. Nevertheless, in an effort to pull off her first drift, Nicola grabbed the 577bhp Kia by the horns and drove with absolute commitment. Some would say a little too much…
Sneaking in to drive the all-new Nissan Ariya 
Our first taste of the Ariya left us in no doubt of its class-leading skills, but getting behind the wheel wasn't easy. Ahead of the electric SUV's debut, we sent Nicola Hume to the Millbrook testing facility to drive a prototype, giving it a thorough going over on the Alpine circuit. Riding on a new platform, the Ariya is the latest generation of the company's EV onslaught to take on the Kia EV6. With its hushed road manners and sophisticated cabin, it was immediately clear that the Ariya was a potential Auto Express Car of the Year – and indeed, it duly took the title later in the year.
Porsche 911 GT3 RS vs GT3 vs Carrera 
The new Porsche 911 GT3 RS is remarkable. Few road cars claw grip from the asphalt quite like this swollen, bewinged creation, but we wanted to see just how far it moves the game on from the already bombastic GT3, and indeed, the regular Carrera. Steve Sutcliffe got into the RS for a drag race, drifting test and cornering challenge against its stablemates, and while the road racer largely dominated proceedings, the lesser models certainly didn't embarrass themselves. The GT3 RS scales new heights, and proves that the 911 is one of the most versatile machines on sale. 
​​"Why I bought a Lotus Elise S1"
Lotus is on the march towards an all-electric future, but earlier this year we wanted to look back – specifically, at the original Elise. In some ways, contemporary electric cars have much to learn from this featherweight two-seater, which strips back the kilos to ramp up the fun. Our man Yousuf was seduced by the Elise's raw tactility and dynamic finesse, and spent months searching for one of his own. He eventually found a metallic-green example that had covered 52,000 joy-filled miles in the hands of its original owner – an 88-year-old stunt pilot. Join Yousuf for an open-top blast through the Cotswolds to unravel this British icon.
Driving the world's greatest BMW M cars
BMW's M division turned 50 years old in 2022. To begin with it made only racing cars – hence the M (for motorsport) in the name – its first-ever creation being the outrageous 3.0-litre CSL 'Batmobile' from 1972. At the start, the M Division employed a mere 35 people. In 1978, however, everything changed. In the same year that Britain birthed its first test-tube baby, BMW Motorsport GmbH – as it was known back then – also produced its first- ever road car, the M1. Since then, it has never looked back. Five decades on, the M Division has built more than half-a-million cars, at the same time underwriting BMW's reputation as a creator of some of the world's finest driver's machines. It's a reputation that many manufacturers have tried, and largely failed, to emulate.
Partnership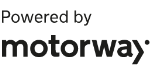 Need to sell your car?
Find your best offer from over 5,000+ dealers. It's that easy.
So for a magical couple of days in May, nearly 50 years to the hour after M was born, we brought together a rare and varied collection of the best cars made by the now-mighty division during the past half century. Steve Sutcliffe took to the track in each, to review some of Bavaria's finest creations to date.
"The new Kia Sportage is so good, I bought one"
The sharp, ultra-modern look of the Kia Sportage is a bold move from the Korean manufacturer, but one that should at least help its family SUV stand out from a slew of all-too familiar rivals. Elsewhere, the Sportage has been improved in all the right areas – there's more passenger room, a bigger boot, a stunning new infotainment system and a choice of efficient hybrid engines, including plug-in technology for the first time. The Sportage doesn't provide that much entertainment out on the road, but then that's missing the point; comfort and refinement are excellent, while Kia has added extra practical touches to make its best-selling SUV even easier to live with - particularly for our resident car reviewer Nicola Hume, who bought one for herself! 
Why the Hyundai Ioniq 5 is the world's BEST electric car: 1000 mile review
The Hyundai Ioniq 5 represents a real shift forward in Hyundai's ability to chase down premium electric rivals, helping to persuade EV buyers who are motivated by stylish design, great on-board tech and practical range and charging speeds, to invest in the Korean brand. With stunning looks and a sense of cool that sets it apart from the pack, the manufacturer has added to the Ioniq 5's strong kerb appeal with competitive pricing, generous standard kit and advanced active safety systems. 
Such are its talents, we named the Ioniq 5 our 2021 Car of the Year. But we wanted to delve even deeper under the skin of this radical EV, so our man Steve Sutcliffe spent two weeks with one, covering 1000 miles in the process. As he found out, living with an Ioniq 5 gets even better as the miles roll under the wheels, and it might just be the very best electric car you can buy today.  
Carbuyer Best Car Awards 2023
If the satisfaction with the end product reflects how much time and effort went into its construction, then sister site Carbuyer's annual Best Car Awards round-up is without doubt one of our biggest and best videos of the year. Ring-fencing 20 cars, four film crew and two presenters, editor Richard Ingram and his team of trusty helpers headed to an old airfield to shoot the brand's favourite models from the past 12 months. They lined up everything from hot hatches to hybrids, small cars and SUVs, and this year's top prize went to not one but three cars – each offering a decidedly different take on the family-car formula.
DrivingElectric: 20-year-old G-Wiz vs new MINI Electric
Auto Express's sister website dedicated to electric and hybrid cars, DrivingElectric, mainly focuses on the best brand-new EVs and PHEVs you can buy. But the rate of change in recent years has been dramatic, to the point where electrified models now account for roughly one in four new cars sold in the UK. Just how far have we come, though?
To find out, DrivingElectric teamed up with sister site Car Throttle to compare its 20-year-old G-Wiz with one of the latest (and greatest) urban EVs: the MINI Electric. Is the difference as discernible as you think? We find out in this special video. 
If you still haven't quite scratched that car video itch, why not take a look back at some of our top videos from previous years? Find them below…