Best car videos 2019: watch our video highlights of the year
We rank our top 10 most popular videos and see which one takes the takes the honours for 2019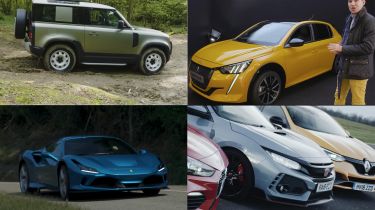 Thanks to some great videos showcasing the latest news, reviews and the odd special feature from the automotive world, this year we saw our total views on Youtube smash past 200 million with 17.3m in 2019 alone.
We've also gained over 26,000 more Youtube subscribers, meaning our videos are more popular than ever. This success is all down to our dedicated film team and presenters who put in the effort to bring you the very best motoring videos on the internet.
So without further ado, allow us to introduce our top 10 most popular car videos of 2019, we hope you enjoy watching them just as much as we did making them…
Top 10 most popular car videos of 2019
1. New 2019 Peugeot 208 - meet the French brand's Ford Fiesta rival
2019 was a big year for Peugeot. Not only was the new 2008 SUV released, but also its smaller cousin - the 208 supermini. There was a lot riding on this car, especially as it also gave birth to the all-electric e-208.
Thankfully for Peugeot, it proved to be a classy entry into the competitive supermini segment when we first viewed it all the way back in February 2019. When we reviewed it, we found it wasn't quite up to scratch in terms of driving dynamics but the quality of the interior was deeply impressive.
2. New 2020 Peugeot 2008 - can Peugeot's new baby SUV become a class leader?
It appears our Youtube viewers couldn't get enough of Peugeot in 2019. The new 2008 SUV mirrors the styling of its 3008 bigger brother and just like the 208 supermini there's also an all-electric e-2008 version. With the Skoda Kamiq, Nissan Juke and Hyundai Kona all vying for the same market as the 2008, the French SUV will have its work cut out to get a slice of the crossover pie.
3. New 2019 Mercedes CLA review - is it more than just a posh A-Class?
When we drove the CLA in April, we thought it was much more than just a rebodied A-Class as it offered a sleek four-door coupe design with some practical touches. Of course, the A-Class saloon came along later in the year to muddy the A-Class waters, but we still feel the CLA stands out with its mini-CLS shape and engaging drive.
4. New 2019 Jaguar XE - take a look around Jag's facelifted 3 Series rival
When we got our first glance at the facelifted Jaguar XE, we thought it made big steps on from the old model on both the outside and inside. The aggressively styled front bumper and thinner headlight design gave off a more purposeful stance and the interior featured more quality materials and improved ergonomics. Overall, the updated XE certainly gave its German rivals something to think about in 2019.
5. 2020 Land Rover Defender explored: under the skin of a new off-road icon
The Land Rover Defender is probably one of the most eagerly anticipated cars of the year so it's no surprise it got into our top five videos. Following on from the widely-loved original, the new Defender had to be good off-road and it comfortably proved its credentials with our editor-at-Large, James Batchelor, putting the rugged 4x4 through its paces. With a starring role in the James Bond film, 'No Time to Die' confirmed, you can expect to see a lot more of the new Defender in 2020 and while it still has a difficult road ahead (figuratively and literally) to fill its predecessor's boots, the new Landy has impressed so far.
6. New 2020 Ferrari F8 Tributo review - could this be Ferrari's best supercar ever?
As the name suggests, the F8 Tributo is Ferrari's tribute to their long and illustrious history of mid-engined, V8 supercars. As hybridisation begins to infiltrate Ferrari powertrains, the F8 Tributo could be seen as one of the last of the breed. We found it to be a fitting celebration of Ferrari's V8 supercar formula, taking much of the engineering found in the hardcore 488 Pista and incoorporating it into a slightly more road-biased package.
7. New 2020 Renault Captur - Renault's best selling car goes for premium push
The first-generation Captur was a huge success for Renault in the UK as buyers wanted to get a sliver of SUV style for a supermini price. Of course, almost every manufacturer is targeting this lucrative market now so the latest Captur needed to be good. Our walkaround video showed a colossal improvement in boot space, rising 81 litres over the old car - rising to 536 litres. The visual changes were inspired by the latest Clio and it proved it could back up the new look when we drove it in October with class-leading comfort, interior-quality and tech.
8. New Ford Puma 2020 revealed - yes, it's an SUV!
Back in 2018 if you were to think of a Ford Puma, you'd get visions of a svelte coupe from the 90's with a susceptibility to rust. Now however, the Puma is (somewhat controversially) an SUV. After 17 years, Ford brought the Puma nameplate back, not to tough it out with other small coupes, but crossovers and SUVs instead. Fans of the original Puma's sporty driving dynamics might feel slightly more appeased when a hot ST version comes out in 2020 - using the 197bhp powertrain from the Fiesta ST, but one thing is for sure - the Ford Puma was one of the most contentious cars to come out this year.
9. New Ford Focus ST 2020 review - is it a proper Fast Ford?
While the Fiesta ST has been a hot hatch champion for almost a decade now (spanning two generations), the bigger-brother Focus ST has had a much tougher time of it, conceding ground to the Honda Civic Type R, Hyundai i30 N and Renault Megane RS among others. When we drove the latest Focus ST we were impressed with its sharp throttle response, adaptive dampers, clever differential and rev-matching gearbox. Overall, the Focus ST made a big comeback in 2019 to once again become one of the best hot hatches on the market.
10. Honda Civic Type R vs Renault Megane RS vs Hyundai i30N - hot hatch Track Battle
Britain loves a hot hatch so it's perhaps a surprise to see this track battle between the Honda Civic Type R, Renault Megane RS and Hyundai i30N not feature further up our list. It's certainly no fault of the cars as we loved each of them - picking a winner was an almost impossible task. A good old-fashioned timed run around a circuit proved to be the deciding factor.
Which was your favourite video from 2019? Let us know in the comments section below...
Review of the Year 2019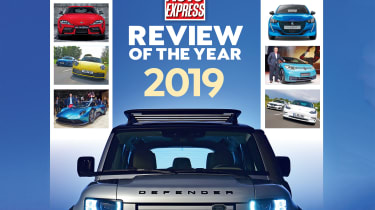 • Best car news stories of 2019• Best car reviews of 2019• Best car group tests of 2019• Best long-term tests of 2019• Best motoring features of 2019• Best car videos of 2019• Best motorsport stories of 2019• Our highlights of 2019