Mercedes A-Class review
The latest Mercedes A-Class premium hatch is one of the most tech-laden cars on sale, of any size
The Mercedes A-Class has always been a compact hatch with one major selling point – that three-pointed star on the nose. But while its predecessors all lacked a little substance behind the badge, this latest generation is a genuine contender for class honours. Step inside and it blows its rivals away – the interior design and quality is wonderful, and the infotainment system is quite possibly the best on the market at any price.
Some rivals are more fun to drive and several are more comfortable, but the A-Class leads the class both in terms of refinement and efficiency. Invest in one of the higher grade infotainment set-ups, and the A-Class is one of the most high-tech hatches money can buy.
About the Mercedes A-Class
The latest Mercedes A-Class is the fourth generation of Mercedes' smallest car. While the first two examples took on a mini-MPV design direction (with clever, if not particularly desirable, results), the most recent pair have gone for a more conventional five-door hatchback shape in order to compete directly with the BMW 1 Series and Audi A3.
The A-Class is an important model for Mercedes: in reality, it's the brand's biggest-seller, especially when taking into account the fact that official figures for the next most popular, the C-Class, roll saloon, estate, coupe and cabriolet numbers into one grand total.
The A-Class is available as a five-door hatchback and four-door saloon in the UK. As with the third-generation model, spin-offs from the same platform are available - including the four-door coupe CLA and GLA mini-SUV).
There are seven trim levels for buyers of the hatchback to choose from. The SE (not available with the saloon body) kicks off the range with 16-inch alloy wheels, air conditioning, heated half 'Artico' artificial leather/half fabric seats and a pair of seven-inch digital screens – one for the dials and another for the infotainment setup.
Sport models feature upgraded 17-inch wheels and LED headlights, while the Sport Executive includes the Parking package as standard and a bigger infotainment touchscreen.
AMG Line versions add the usual sporty touches to the exterior trim and inside the cabin, while there's also the AMG Line Executive, Premium and Premium Plus variants that offer further luxury items and safety kit.
Engine choices are made up of two diesels and four petrol units. The A180 d and A 200 d both use a 2.0-litre unit, developing 114bhp and 148bhp respectively. A 1.3-litre turbo is offered in two power outputs in the A 180 and A 200, while the A 250 uses a 221bhp 2.0-litre turbo unit.
Both the A 180 and A 200 are available with a choice of six-speed manual and seven speed twin-clutch automatic gearboxes, while the A 200 d and A 220 d get an eight-speed twin-clutch automatic.
There's also the A 250 e that gets the turbocharged 1.3-litre petrol engine, mated to a 15.6kWh battery and a 75kW electric motor. Total system output jumps from 158bhp to a more serious 215bhp.
A more spritely AMG A 35 is available in hatchback or saloon form and uses a new 2.0-litre turbocharged petrol four-cylinder, producing 302bhp and 400Nm of torque. Hot hatch fans will love the manic AMG A 45 S, featuring the world's most powerful four-cylinder engine - a bespoke turbocharged 2.0-litre unit with 415bhp.
Used and nearly new
This fourth generation Mercedes A-Class launched in 2018 so it's now in plentiful supply on the used car market. The car has proven extremely popular with buyers with its combination of style, technology and a premium badge helping keep used values strong. The A-Class was the UK's fifth best-selling car in 2020 so there's no shortage of choice out there.
Mercedes A-Class history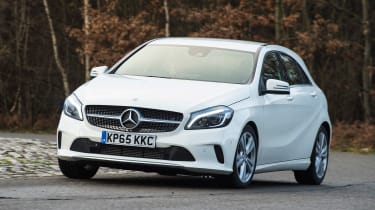 Mercedes A-Class Mk3: 2013-2018
The third generation A-Class arrived in 2013 as a complete departure from the Mercedes compact car philosophy that had gone before. A traditional hatchback in shape, it offered sharp design inside and out but was criticised for a firm ride and a lack of practicality. Big sales numbers mean there are lots of used models to choose from. Read our full Mk3 Mercedes A-Class buyer's guide here…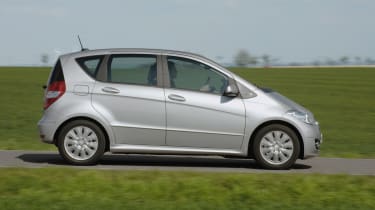 Mercedes A-Class Mk2: 2004-2012
Following the same MPV themes as the original Mercedes A-Class the Mk2 car was very much an update on that formula and remained at odds with what rival manufacturers were doing in the compact premium family car space at the time. Sturdy build quality, low running costs and cabin space were strengths but it was better around town than on the open road.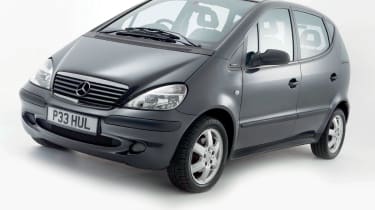 Mercedes A-Class Mk1: 1998-2004
The first Mercedes A-Class with a unique design with a tall shape and a small footprint maximising interior space and manoeuvrability. The design was groundbreaking, a new approach to premium compact cars and they still make good, cheap family runabouts today.