All-electric Mercedes A-Class replacement could still be on
Mercedes plots A-Class-sized all-electric car on bespoke platform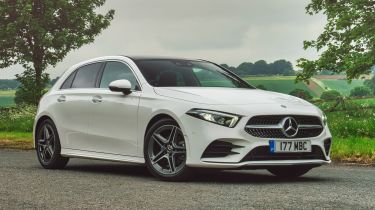 The A-Class was the fourth best-selling vehicle in Britain last year and Mercedes's best-selling car overall. But despite this success the German firm's premium hatchback might not survive after this generation. 
Rumours about the car's future and whether or not Mercedes will invest into a replacement have been doubtful and a recent investor meeting suggested the brand's repositioning of its lineup might kill off the A-Class altogether. 
But there is still hope Merc will build a small family car. In an exclusive interview with Auto Express, Holger Enzmann, Project manager for the all-electric EVA2 platform that underpins the EQE and EQS models, said, "we have talked about the A-Class and we're looking at it [a replacement]. It won't feature on EVA2 as that is for larger vehicles but you can be sure we'll see a vehicle in this segment."
Mercedes already has the EQA small SUV within its all-electric stable, but that car is built on the MFA2 platform which also underpins the current A-Class. The upcoming MB.EA platform (expected in 2025), meanwhile, will be designed specifically for medium and large electric cars.
A more likely base for the new EV would be the upcoming MMA underpinnings which Mercedes says will focus on "entry luxury" models. This platform has also been designed to accommodate combustion engines so don't rule out a petrol or diesel just yet. 
If Mercedes presses on with an electric A-Class then we expect it'll use the operating system, MB.OS, which is set to roll out across its future vehicle portfolio by 2024.
Now read our list of the best small electric cars...