Mercedes Vision EQXX extends all-electric record to 747 miles
Mercedes has broken the record for the longest trip without recharging in its Vision EQXX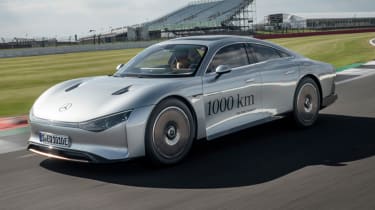 1/45
After completing a record 626-mile journey on a single charge back in April, the Mercedes Vision EQXX has broken its own record - this time travelling 747 miles from the German firm's home city of Stuttgart to Silverstone in the UK. 
The trip was made on a mix of autobahn, motorways and country roads, making the journey despite temperatures of up to 30 degrees celsius. Yet while hot weather normally means the batteries and motors of EVs struggle to work at optimal efficiency, the Vision EQXX's thermal management system helped keep the powertrain cool with various coolant valves and aero-shutters. 
Upon arrival at Silverstone, Mercedes Formula E driver Nyck de Vries used up the last bit of charge to complete 11 laps around the grand prix circuit. The average energy consumption from the 14 hour and 30 minute trip was 8.3 kWh/100 km. 
Markus Schäfer, Chief Technology Officer at Mercedes-Benz, said: "As Mercedes-Benz strives to go all-electric by 2030 wherever market conditions allow, it is important to show to the world what can be achieved in real terms through a combination of cutting-edge technology, teamwork and determination."
Following its journey, the Vision EQXX recharged and set off for the Goodwood Festival of Speed, where it's on display alongside other Mercedes vehicles and will also be treated to runs up the famous hill climb. 
This new distance record from Stuttgart to Silverstone beat the brand's previous best figure of 626 miles earlier in the year. On 5 April the car travelled between Germany and the south coast of France, crossing the Alps, and when it reached the Mediterranean sea the EQXX's battery still had more than 140km (87 miles) of range left, proving the brand's focus on efficiency could be delivered in the real world.
Showing 15 per cent charge left when it arrived, it means the Vision EQXX would have been good for a real-world range of 1,150km, around 715 miles. If it was put through official WLTP certification that figure could be even higher, the brand's Chief Technology Officer, Markus Schafer, told Auto Express.
"It's the most efficient Mercedes-Benz in 150 years," he said. "Internally we were joking that it's our Mars landing achieving this kind of record in the EV world. We've set new benchmarks and milestones, and now we'll implement everything that we have learnt and the components into series production in the next few years."
According to Schafer the car reached speeds of 140km/h (87mph) on the autobahn on the German section of its leg, with an average speed of just under 90km/h overall (around 56mph). The EQXX had to cross the Alps, which the Mercedes exec outlined shows this was a real-world trip; the car achieved energy consumption of 7.14 miles per kWh on arrival in Cassis - way in advance of its target of six m/kWh - which Schafer was surprised by in a positive way.
"We were sitting in traffic jams and there were construction zones that were not calculated [on the simulation runs] so I think we had everything that real life would offer you day-to-day and no special driving style. We really wanted to have something that mirrored what was happening in the real world, because we want to bring this tech to series production and see the same results," he said.
Partnership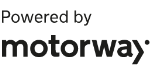 Need to sell your car?
Find your best offer from over 5,000+ dealers. It's that easy.
The first glimpse of this technology we'll see on a production Mercedes will come in 2024 when the company unveils new models based on its forthcoming MMA platform. Schafer told us that the battery, e-motor, aspects of the EQXX's inverter and some 'bionic engineering' cast metal parts will feature on series production cars in the future, so there will be a large carryover from this experimental testbed.
The Vision EQXX's range - typically double that of most current premium EVs - doesn't come from a larger battery, however. Instead, the four-seat family car "takes range and efficiency to a whole new level [by] rethinking the fundamentals from the ground up" using lightweight materials and a relatively conventionally sized battery, allowing the Vision EQXX "to go further with less", according to Mercedes.
The car is powered by a freshly designed battery "that holds almost 100kWh", as detailed by Mercedes' official specifications. The battery takes up 50 per cent less volume and is 30 per cent lighter than the pack in the firm's EQS electric limousine, weighs around 495kg and has been developed in conjunction with the Mercedes-AMG F1 team. The EQXX uses a more-than 900v electrical architecture and weighs approximately 1,750kg.
Developed extremely quickly thanks to a focus on software and digital engineering, it took just 18 months to go from a clean sheet of paper to 'on the road', with the EQXX. Mercedes says the car is "the outcome of an ongoing programme that is delivering a blueprint for the future of automotive engineering". 
Compared with the firm's current EV line-up, the Vision EQXX's power output is relatively modest, at approximately 201bhp. Performance figures have not been confirmed, although the power electronics unit is closely related to that in the firm's AMG Project One hybrid hypercar.
Acceleration times have not been a key focus of the programme's development, with range and efficiency the big goals for the project. The car's maximum cruising range is helped by a new electric drive system - also developed in conjunction with the F1 team - that boasts efficiency of 95 per cent between the battery and wheels. This is the percentage of energy that makes it from the car's cells directly to the wheels. By contrast, a conventional combustion-powered vehicle offers only around 30 per cent efficiency.
According to Joerg Bartels, Mercedes' Vice President for Vehicle Engineering and Overall Vehicle Functions, "Electric range sounds easy but is a complex technical challenge. The easiest way is to put a bigger battery in the car. However, this leads to diminishing returns due to size and weight. This is definitely not the smartest route and it's also not the best use of scarce resources. With the Vision EQXX, we're presenting the results of an extraordinary challenge: we pushed efficiency to a totally new level. And we explored new ways to increase the range of an electric car."
Aerodynamics have also played a key part in the EQXX's efficiency, with the car achieving a drag coefficient of just 0.17Cd. Mercedes claims a reduction of just 0.01 can add as much as 2.5 per cent more range. 
A 50mm narrower track across the rear axle compared with the front means plus the four-door body's heavy taper towards the elongated tail is matched by a stretched underfloor and a retractable diffuser helping the EQXX to carve through the air with less resistance, while an air curtain in the front bumper reduces turbulence as air passes over the front wheels.
Lightweight engineering extends to the bespoke EV chassis' subframes, aluminium alloy brake discs and many 3D-printed components inspired by natural forms that have been designed and engineered to remove weight (saving between 15 and 20 per cent compared with conventionally produced components) but not compromise strength. This is what Mercedes refers to as "bionic engineering".
Magnesium alloy wheels, 20 inches in diameter, are wrapped in ultra-low rolling resistance tyres with optimised aerodynamics.  Meanwhile, slim roof-mounted solar panels contribute an extra 25km (15 miles) of range.
The software-first philosophy employed in the development of the Vision EQXX included the car's battery management system as well as its in-car technology and user interface, which includes sat-nav guidance and a driving assistant to maximise the efficiency on offer.
Inside, this technology mixes with many recycled and plant-based materials highlighting the project's focus on sustainability and further lowering the EQXX's carbon footprint. The vegan interior integrates plenty of advanced technology, including what Mercedes calls a "neuromorphic" processor. This means that actions are processed in neural spikes, with energy only consumed during these spikes, helping to reduce consumption and improve efficiency.
An 8k 47.5-inch seamless display spans the full width of the car's interior. It features an avatar personal assistant as a 'road-trip sidekick' and real-time 3D navigation that uses satellite data that can be zoomed down to a height of 10m using conventional pinch and swipe gestures.
Now read our review of the all-electric Mercedes EQE...