WLTP and RDE economy and emission tests explained
The latest WLTP tests mean lower on-paper fuel economy, higher emissions and revamped model ranges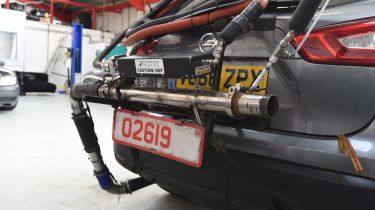 Significant changes to new car emissions and fuel economy testing came into effect in September 2018. The latest standards are known as the WLTP (World Harmonised Light Vehicle Testing Protocol.) 
All new cars that have been sold since then have to be assessed under WLTP, and the testing process is much more stringent than the previous NEDC (New European Driving Cycle) assessments it replaced. WLTP is designed to give motorists much more relevant, real world information about how much fuel their car is likely to use and how much pollution it emits.
Under the old testing regime there was very little 'real world' relevance, meaning the fuel economy and emissions figures cars delivered usually looked far better than any owner could achieve. However, the latest WLTP testing procedure has been designed to deliver results in the laboratory that much more closely mirror reality.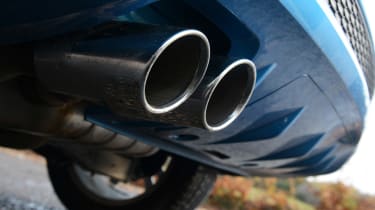 This means that on-paper fuel economy and emissions figures for almost every new car on sale are worse as a result. It's estimated that measured CO2 emissions have risen between 13 and 22 per cent under WLTP testing criteria compared to the pre-2018 NEDC tests, so it's important to bear this in mind when comparing cars from before and after the switch over.
WLTP tax implications
Because both the first year of road tax (VED) and company car tax are based on a car's CO2 emissions, the amount of tax that consumers pay on their cars changed based on the new WLTP assessments.
However, to avoid consumers facing a significant tax hike as a result of increased emission measurements, WLTP figures were converted back to NEDC figures until April 2020. These figures were used for the purposes of tax calculations. 
The EU developed a computer programme, known as CO2MPAS, to replicate NEDC figures from WLTP tests, but since April 2020, only WLTP measurements have been used for tax calculations.
WLTP vs NEDC – what's the difference?
The latest WLTP tests represent a root and branch change compared to the NEDC assessments they replaced. While they are still laboratory-based, the cars are 'driven' for longer distances, at higher speeds, and more variables are taken into account.
| | | |
| --- | --- | --- |
| Criteria | NEDC | WLTP |
| Test length | 11km (6.8 miles) | 23.25km (14.4 miles) |
| Average speed | 34kmh (21.1mph) | 46.5kmh (28.9mph) |
| Max speed | 120kmh (74.6mph) | 131kmh (81.4mph) |
| Gear changes | Fixed | Varies based on car |
| Types of driving | Two phases: urban/non urban | Up to four phases: low, middle, high, extra high |
| Impact of optional extras | Not taken into account | Taken into account |
Individual cars with different alloy wheel sizes and trim levels, for example, must be assessed individually under WLTP, as larger alloy wheels negatively impact economy and emissions. It's the same story for the extra weight added equipment on higher trim levels; options such as roof racks, which affect aerodynamics, are also taken into consideration. Other changes include faster acceleration and sharper braking, while cars are put through different levels of assessment depending on their power-to-weight ratios.
Plug-in hybrids and electric cars: extra tests
Plug-in hybrids, or PHEVs, which can drive on all-electric power for around 20 to 60 miles and be recharged from a plug, are tested in a different manner from conventional petrol and diesel cars when being assessed under WLTP.
One test is started with the PHEV's battery fully charged, and the car is put through repeated WLTP cycles until the battery is fully depleted. A second test then takes place, which begins with the PHEV's battery being totally empty, the car being powered solely by its internal combustion engine (along with any energy generated from regenerative braking). A PHEV's CO2 emissions are calculated based on the average of these two tests.
Partnership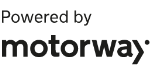 Need to sell your car?
Find your best offer from over 5,000+ dealers. It's that easy.
Electric cars are also assessed more stringently under WLTP than they were under NEDC. They start with a full battery, and are subjected to the same fuel economy cycle petrol and diesel cars undertake. Once the cycle is complete their batteries are recharged, and a meter measures how much electricity has been used during the trial. The EV's range is calculated based on how far and how fast it has travelled during the test.
Where do real-world RDE tests come into it?
European legislators introduced new real-world tests at the same time WLTP laboratory assessments came in. The RDE (Real Driving Emissions) test sees cars have a Portable Emissions Measurement System (PEMS) fitted to their rear to measure particulate matter, fuel economy and nitrogen oxide (NOx) emissions, and taken out on public roads for 90-120 minutes.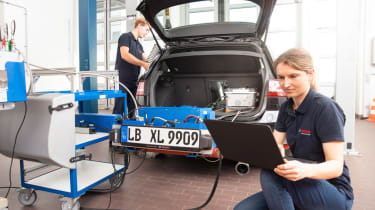 RDE tests have to be carried out and logged by manufacturers – both a particulate matter and NOx emission element have to be passed.
Are cars assessed under WLTP still Euro 6 models?
Yes. Euro 6 standards arrived in 2014-15, setting a limit of 80 milligrams per kilometre (mg/km) for NOx for diesel cars (60mg/km for petrols) and 4.5mg/km of particulate matter (microscopic soot and other waste particles) for all passenger cars. Euro 6 standards are expected to be in place until at least 2025, and the limits they comprise haven't changed; WLTP has simply toughened up the way cars are measured against them. A firm date is yet to be set for the introduction of Euro 7 standards.
WLTP and RDE economy and emissions tests could still be unrealistic
However, according to Mercedes the WLTP/RDE tests for car fuel economy and emissions are unlikely to match real-world figures,
Speaking exclusively to Auto Express, Mercedes' Dr Christoph Höhmann, in charge of Certification of Emissions and Consumption in the EU, said, "It's not for us to introduce WLTP, but we stand behind it."
Asked if he thought the new test regime was the right thing to do, he continued, "It's better than the old one. But if the expectation is that everything will be fixed, then in that respect it's not right."
Dr Höhmann went on to give an example of the new RDE tests, which includes on-road analysis of emissions with a PEMS device. "The framework [for RDE] does not say when you have to shift gears or whether you should be using items like the air conditioning or heated rear screen during the test," he told us. "The air con could have a huge effect, but you don't have to turn it on [in the test] and you will probably have it on in the real world."
Every new model introduced since September 2017 must have been put through the WLTP testing programme, but every car registered from September 2018 – including existing models – is expected to have been tested and to have had its new figures made available to buyers.
The new programme aims to provide a more real-world figure for consumers to base their buying decisions on, with the test split into two parts – the laboratory WLTP test and on-road RDE assessment. 
WLTP regulations run to over 700 pages, with Mercedes estimating the new regime takes around twice as much effort as testing under NEDC. To avoid any cheating, all WLTP tests are overseen by an independent body, while 50 per cent of the RDE tests have to be carried out by an external organisation. Additional independent tests are also carried out, although manufacturers won't know when or where these spot checks will be done.
Now check out our list of the most economical cars on sale...