New Mercedes MMA platform to underpin four new cars
A shooting brake, two SUVs and a saloon are in development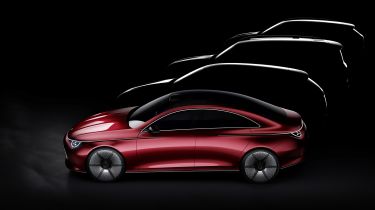 Mercedes is working on a new platform called 'MMA', designed specifically, but not exclusively for electric vehicle. MMA will also represent a new entry-point into the Mercedes range, first arriving with a production version of the Concept CLA Class.
Shown off for the first time at the 2023 Munich Motor Show, the Concept CLA Class gave us some new clues as to what we can expect from cars sitting on the upcoming MMA architecture. The most eye-catching figure on the new platform is the claimed 466-mile range, something the more streamlined Concept CLA Class should either achieve or get near to, with the other cars being a shooting brake estate and two SUVs. 
That would mean an all-electric range even greater than that of the Mercedes EQS 450+ with its 452-mile maximum - the longest range of any car you can buy in the UK. 
2024 is when we'll see the new platform debut on the production version of the Concept CLA Class. The German brand previously confirmed that the MMA platform will focus on "entry luxury" models, but will also accept combustion engines, even though Mercedes has developed it with an electric-first approach.
New models based on the MMA underpinnings will redefine Mercedes' range entry point too, with the brand pushing its most affordable models further up market with a greater focus on luxury - and sales margins, according to its investor presentations. Cars higher up the Mercedes ladder will use MB.EA when it launches from 2025 - effectively replacing the current selection of EVA2-based EQ cars like the EQE and EQS.
Mercedes CEO Ola Kallenius has said that "The entry point to the Mercedes brand in the future will be a different one than today." As a result, expect the A-Class, A-Class saloon, CLA four-door coupe and shooting brake, and B-Class to all come under scrutiny, with the future of these models uncertain; they're likely to be axed, with Mercedes outlining its "portfolio of variants" (which we understand to mean body styles in this compact class) will be slimmed down from seven to four.
This will tie in with an underpinning of its core luxury models - which covers cars such as the C-Class, E-Class and GLC SUV among others - with Mercedes targeting relatively constant sales volumes in these sectors as it moves towards a fully electric model range. At the top end of its portfolio the brand will focus even more of its development budget on its luxury cars where profit margins are higher.