What is 4x4? Four-wheel drive systems explained
Get to grips with the intricacies of different four-wheel drive systems with our handy guide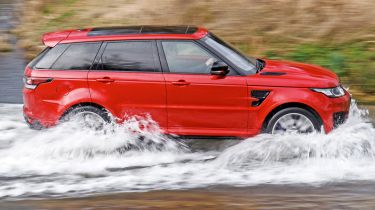 Four-wheel drive is most commonly associated with rugged off-road SUVs, but it is also found in a number of other types of car. To make matters more complex, not only do 4x4 drivetrains appear on a number of different types of car, but the system itself comes in a number of different forms, too. Certain four-wheel-drive configurations are more common than others, and each one works to give you as much grip as possible, but in different ways.
Four-wheel drive-transmissions can vary from the purely mechanical to being almost entirely electronically controlled. There are even some trick traction control systems in use, such as Citroen and Peugeot's GripControl system, which mimics the effect of 4x4 without actually sending power to all four wheels.
Audi's quattro system is part of almost every car in the brand's range, while performance cars such as the BMW M5 and the Toyota GR Yaris prove that four-wheel drive isn't just for greenlaning or driving out in the wilderness – it can help you get the maximum from your car's performance, too.
Our 4x4 guide will talk you through the most common 4x4-related terms and phrases, as well as the systems available to you and what makes them different - plus the advantages and disadvantages of each one.
Four-wheel-drive jargon buster
4x4
Four-by-four signifies a car that sends engine power to all four wheels. More specifically, it usually refers to cars with a permanent set-up, which is good for off-roading, but not so good for fuel economy.
4MATIC
The name for Mercedes's four-wheel drive system.
4MOTION
The name for Volkswagen's four-wheel drive system.
Air suspension
A set-up with heavy-duty airbags that are often electrically adjustable so a car can be raised for improved ground clearance when driving off road.
All-terrain tyre
A specialised tyre that is designed for better grip when driving off road. A large tread with big gaps between blocks helps to find grip in slippery conditions. The downside is poorer performance and more tyre noise when driving on tarmac.
Approach/departure angle
The maximum angle of ramp that a car can drive up or down; basically how steep a slope can be without the car's bumpers scraping. The higher the number, the better.
Articulation
The amount of vertical travel in a car's axle when tackling rough terrain. The greater the travel, the less chance there is of a car's wheels leaving the ground.
Breakover angle
A measurement that determines the highest point a car can pass over without the underside touching the ground. The higher the number, the better. 
Coil spring suspension
A typical suspension set-up with steel springs and dampers. Unlike air suspension, these systems are usually fixed in height, but in 4x4s this will be set with off-road use in mind, usually at the expense of on-road performance.
Differential lock
A system that improves off-road traction. On cars equipped with a diff lock, the conventional differential can be locked so that both wheels on an axle rotate at the same speed, which will improve  traction on slippery surfaces.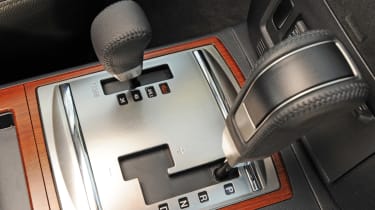 These systems are often electronically activated at the push of a button. Diff locks can be found on front and rear axles on 4x4s, or between both axles – a fully locked system means equal power distribution between all four wheels.
Partnership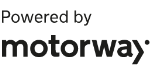 Need to sell your car?
Find your best offer from over 5,000+ dealers. It's that easy.
Ground clearance
The distance between the underside of the car and the ground. The greater the ground clearance, the less chance there is of the car bottoming out and getting stuck.
Ground pressure
The pressure exerted on the ground by the tyres of a vehicle. Bigger tyres spread the load and reduce ground pressure, which will cause less damage on softer terrain.
Haldex
Swedish firm that produces four-wheel drive systems, chiefly used by the VW Group, Volvo and Ford. This system is reactive, because the four-wheel drive system only engages when a loss of traction is detected by a car's electronics.
Hill descent control
Electronic system that regulates a car's speed when driving down a slope. Usually activated by a button on the dashboard, the system holds a car at a predetermined speed so it doesn't gain momentum while the driver concentrates on steering.
Hill hold
Electronics that hold a vehicle on a slope, either uphill or downhill, until the driver presses the accelerator.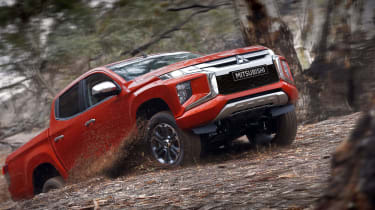 Hill start assist
A more advanced version of hill hold. The system allows the driver to concentrate on pulling away when stopped on an upward slope without having to worry about the car rolling back when moving from the brake pedal to the accelerator.
Leaf spring suspension
A suspension system normally found on pick-up trucks, which allows for good off-road ability while being able to cope with heavy payloads.
Limited-slip differential
Once the preserve of sports cars, LSDs can be found on 4x4s as an alternative to a diff lock. Electronic control limits the amount of slip to improve traction in slippery conditions.
Low-range gears
Short ratios that mean a car can drive at low speeds while still making use of the engine's whole power band. Depending on the car, low-range gears are selected with a lever, rotary control or a button.
Low traction launch
A setting within a car's traction control that minimises the risk of losing grip when pulling away in slippery conditions.
Mud & snow tyres
Halfway house between standard tyres and all-terrain rubber. They offer better grip in slippery conditions and at low temperatures, but with less impact on fuel economy and refinement in regular driving.
Mud-plugging
An off-road activity where 4x4s are driven in muddy conditions. Mud-pluggers are 4x4s with specialist equipment such as snorkels, all-terrain tyres and winches.
Overlanding
Travel activity where participants try to head off the beaten track as far as possible, while being self-sufficient. Overland vehicles are usually 4x4s fitted with campervan-style body conversions.
quattro
The name of Audi's four-wheel drive system, and also the name for its eighties rally car.
Rock crawling
An off-road hobby where heavily modified 4x4s are used to tackle extreme off-road terrain at low speeds.
Roll stability control
A setting in a car's electronic stability control system that's designed to mitigate the risk of rollover. Designed more for use at speed, but useful nonetheless.
Skid plate
Extra protection for the underside of the car to prevent mechanical damage.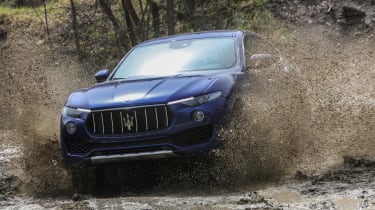 Snorkel
A high-mounted air intake found on dedicated off-road vehicles. This allows for deeper wading depths through water, while still allowing fresh air into the engine.
Sump guard
A skid plate that protects the underside of the engine.
Terrain Response
The name for Land Rover's suite of off-road electronics.
Torque vectoring
A substitute for a diff lock, torque vectoring is an electronic system that can send power to the wheel with the most grip, boosting traction in slippery conditions.
Torsen differential
Torsen is short for 'torque sensing', and is the name for a specific type of limited-slip differential. Less common these days as more advanced electronics take over control of power distribution. 
Transfer case
Central gearbox within a 4x4 system that splits power between front and rear axles, while also incorporating low-range gears.
Wading
The depth of water that a vehicle can safely drive through. The higher the measurement, the deeper the water. Exceed a car's wading depth, and the engine's air intake could ingest water, resulting in hydrolocking: a catastrophic and expensive engine failure.
xDrive
The name for BMW's four-wheel drive system.
Types of four-wheel drive system
Advanced Traction Control
While 4WD brings many benefits, for some buyers the extra weight and complexity isn't a price worth paying. But Citroen, Fiat and Peugeot have an alternative in their clever traction-control systems. 
The French firms' Grip Control set-up features five driving modes, which can be accessed using a rotary controller. Fiat's system is simpler, with drivers simply prodding a single button when grip levels fall away. If all you're tackling is a snowy drive, these set-ups are effective. But bear in mind 80 per cent of the traction boost comes from the standard mud and snow tyres.
On-Demand four-wheel drive
Four-wheel drive really started to gain traction with buyers in the eighties, and as a result manufacturers started to invest more heavily in the technology. The result of this was the introduction of 'on demand' systems, which promised the safety and grip benefits of all-wheel drive, but with the efficiency and usability of regular two-wheel drive.
This type of system proved to be particularly well suited to existing front-wheel-drive models that had transverse engines. Cars such as the Vauxhall Cavalier Mk3 led the way, featuring transmissions that delivered over 90 per cent of the engine's torque to the front wheels during normal driving and had the ability to automatically disengage the rear axle during braking for greater stability.
It was the introduction of the electronically controlled Haldex centre differential in 1998 that allowed brands to relatively easily add all-wheel-drive cars to their line-up. This allowed the car to run in two-wheel drive under normal conditions, which helped save fuel. Yet these early systems were reactive and waited for the front wheel to spin before sending torque to the rear axle. In very slippery conditions this led to scrappy handling as individual wheels were flooded with power as the transmission frantically tried to find grip.
But constant development, more powerful electronics and faster-acting differentials have meant that this type of system now comes close to matching more traditional all-wheel drive for traction. In fact, even Land Rover has taken to using this type of 'on demand' set-up for its Discovery Sport and Evoque. In combination with traction control and Terrain Response it allows these cars to perform almost as well off-road as the full-sized Range Rover.
Nissan and Renault also use similar systems, even letting drivers choose between two and four-wheel-drive modes, just like the old-school selectable set-ups.
Permanent four-wheel drive
When four-wheel drive left the farmyard and hit the road, it was a fairly simple permanent set-up that was used. Cars such as the sixties Jensen FF and eighties Audi Quattro made these systems famous, and it wasn't long before mainstream brands such as Ford had an affordable 4x4 saloon in their range.
Advances in transmission tech mean these systems are getting rare, but brands such as Audi and Subaru have kept the faith. As its name suggests, this system is permanently engaged so that all four wheels are always being driven. It's not as fuel-efficient as 'on demand' set-ups, but the upshot is even greater traction in slippery conditions. This is because the transmission doesn't have to react to surface changes, so there isn't the odd spike of power being sent to individual wheels as the sensors try and limit wheelspin.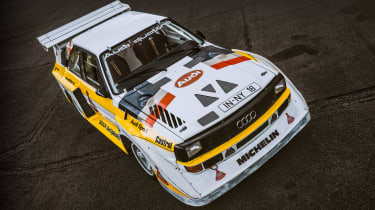 Audi was one of the pioneers of this, and most cars from the A3 above get a redeveloped version of it. Originally using a Torsen centre differential and later Audi's own set-up, it features a permanent torque split of either 50:50 or 40:60. But the centre diff also has the capability of shuffling up to 100 per cent of the power to an individual wheel or axle in extreme circumstances.
Subaru takes matters to the next level with its Symmetrical 4WD set-up. By mounting the longitudinally oriented engine, propshaft and rear differential in a straight line, engineers can incorporate equal-length driveshafts front and rear. Factor in Subaru's low-line boxer engines and you should get balanced, predictable handling, together with even power distribution for enhanced traction. Like the Audi set-up, a viscous centre coupling or an electronically controlled unit can vary power front to rear depending on the conditions.
Selectable four-wheel drive
If you're serious about heading off the beaten track, then a selectable four-wheel-drive system will be best.
This is, in essence, the same system that made its debut on the original Willys Jeep and first Land Rovers, it features a dual-range gearbox that delivers ultra-low gearing for steep inclines and descents. Today, an updated version of this system is favoured by rugged pick-ups at one end of the market and luxury off-roaders such as the Range Rover at the other.
With its bulky transfer case and chunky components, this heavyweight system favours ultimate traction and toughness rather than efficiency. Most of the pick-ups have an option to run in rear-wheel-drive only in an effort to boost fuel returns on the road, but the gains at the pump are minimal.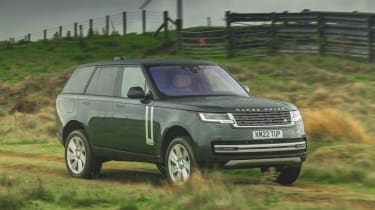 Many older cars rely on a small lever to manually select 4WD and the low and high ratios, but most new models now get a small rotary controller or dashboard buttons that allow electronic switching between the drive modes.
In low-range four-wheel-drive mode, these models are hugely capable in the rough stuff. This is partly down to the gearing, but also the use of locking differentials, which fix the torque split between the front and rear axles at 50:50. Some models also have this function for the rear wheels, while some models, such as the Mercedes G-Class, also allow you to lock the front differential, for the ultimate in traction.
Perhaps one of the most advanced versions of this system is found on the Range Rover, which combines the old-school transmission components with a Terrain Response control system. It uses similar hardware to rival models, but employs a clever traction control that helps eliminate wheelspin. It can assess the condition of the ground automatically, or drivers can manually select from Sand, Snow, Mud, Rock and Gravel settings. There's also All-Terrain Progress Control, which is, in effect, low-speed, off-road cruise control.
Now read our list of the best 4x4s and off-road vehicles...