Audi A3 review
Subtle exterior design and a tech-laden interior help the Audi A3 maintain its position as a premium family hatchback
Audi hasn't felt the need to reinvent the wheel with the latest A3 - its subtle exterior revisions and slightly larger footprint only accentuate the premium look of the stylish family hatchback.
Where the German manufacturer has made decisive change is with the on-board tech and interior design, offering an up-to-date digital environment with the typical Audi focus on quality materials throughout the cabin. The A3 remains as desirable as ever, but will still have its work cut out to win customers away from the equally capable Mercedes, BMW and Volkswagen rivals.
About the Audi A3
The A3 has been around since 1996 when Audi decided it needed a rival for the ever-popular Volkswagen Golf. The debut Audi A3 model cleverly used the reliable underpinnings from its Mk4 Golf stablemate, and with its polished good looks, sophisticated style and superb build quality, it quickly established itself as a leader in the premium hatchback class.
Now in its fourth generation, the A3 has continued to set the benchmark, offering big-car luxury and a desirable appeal that others still find hard to match.
Audi's success with the A3 prompted the likes of BMW and Mercedes to produce hatchback rivals in the shape of the 1 Series and A-Class, while the A3 also shares the Volkswagen Group's MQB platform with the cheaper Golf, SEAT Leon and Skoda Octavia.
Priced from around £26,000, Audi offers the A3 as a five-door Sportback or a four-door Saloon model, with no room for a three-door hatch or Cabriolet version in the range.
With the top-spec Vorsprung trim no longer offered, there are three equipment levels to be found across both the Sportback and Saloon variants: Sport, S line and Edition 1, while the Sportback also features an entry-level Technik trim.
Petrol power comes in the form of either a 1.0-litre unit with 109bhp, badged 30 TFSI, or a 1.5-litre engine with 148bhp, labelled 35 TFSI. The 2.0-litre 40 TFSI quattro with 187bhp has been removed from the price list.
The diesel range has also been pared back to a single oilburning option: the 148bhp 35 TDI. Previously, buyers also had the 114bhp 30 TDI and the 197bhp 40 TDI to choose from.
Plug-in hybrid power is offered in the form of the Sportback TFSI e model, available with Sport, S line and S line Competition trim levels. A 1.4-litre petrol engine and an electric motor combine to produce either 201bhp in 40 TFSI e specification, or 242bhp in the 45 TFSI e model.
The performance end of the range is taken care of by the 307bhp S3 and 394bhp RS 3, with both available in either Sportback or Saloon body styles. The S3 generates its power via a 2.0-litre petrol engine, while its brawny RS 3 sibling uses a 2.5-litre five-cylinder unit. Quattro four-wheel-drive is standard.
Used and nearly new
In production since 1996, the first-generation A3 hatchback delivered typical Audi build quality and a premium fit and finish that proved to be a winning combination with buyers. Originally only offered as a sporty three-door model, the more practical five-door version arrived in 1999 to equal success.
Moving through four generations over 25 years means there will be a host of used examples on the market, with petrol, diesel and more recently plug-in hybrid power available. Sport and S line cars offer improved equipment and a stronger exterior look, although if you're able to bag a solid car with good history then, whatever model you go for, you'll have a classy, refined family hatchback.
Audi A3 history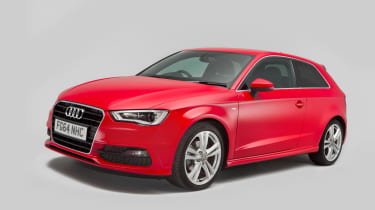 Audi A3 Mk3: 2012-2020
With the Mk4 A3 model range now fully on sale, later cars from the Mk3 generation could prove to be a smart buy. The A3 generally holds its value pretty well, but sourcing a car from the previous lineup that's perhaps 3-4 years old might be the sweet spot in terms of value for money.
The Mk3 A3 was facelifted in 2016 and, along with some styling tweaks and a couple of new petrol engines, received the option of a Virtual Cockpit digital instrument display and integrated sat-nav for certain models. Sport and S line trims are, as ever, the most popular specifications. Read our full Mk3 Audi A3 buyer's guide here…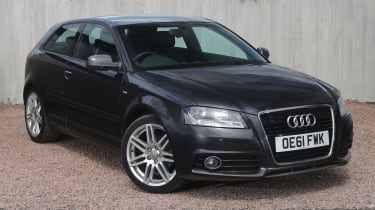 Audi A3 Mk2: 2003-2012
Most used examples of the Mk2 Audi A3 range will be looking a bit tired and perhaps won't feel as polished as later cars. That's not to say that this generation won't be able to provide value for money at the cheaper end of the scale, however. It still remains a desirable car, with plenty of kerb appeal and a sophisticated image. Make sure to take care with checking out the car's history and ensure regular servicing has taken place, while it might be worth researching specialists to take care of any ongoing maintenance. Read our full Mk2 Audi A3 buyer's guide here…
For an alternative review of the Audi A3, visit our sister site carbuyer.co.uk...