Used Mercedes A-Class (Mk3, 2013-2018) review
With decent tech and a broad engine range, the Mercedes A-Class is a strong premium hatchback – but it's not quite the best of its era.
Verdict
The third-generation Mercedes A-Class was a huge success for the brand – and that means there are plenty of examples on the used market today. The BMW 1 Series is better to drive and the Volkswagen Golf is more practical, but the A-Class has top tech and good engines on its side. 
If you simply want to enjoy the creature comforts and premium image of a Mercedes in a smaller, more economical package, then the A-Class will easily deliver – provided you don't expect the last word in ride comfort and interior space.
Which one should I buy?
Best Mercedes A-Class for low costs: A180 SE 
Best Mercedes A-Class for long journeys: A180d Sport
Best Mercedes A-Class for driving fun: A45 AMG
When Mercedes launched the original A-Class in 1998, it came up with something new and unique: a small family hatch that sat its occupants high, MPV style, keeping them out of the way of the mechanicals in the event of a crash. However, somewhat infamously, the A-Class failed the so-called 'moose test' and forced Mercedes to modify the chassis and fit ESP (Electronic Stability Control) as standard to keep the car the right way up in sudden evasive manoeuvres. 
A facelift for the first A-Class was unveiled in 2001 before production ended in 2004. By this time, nearly 1.1 million W168 A-Class models had been produced, with Mercedes reportedly losing around £1,200 for every vehicle sold. Despite the profitability issues, the 2004 Mk2 A-Class was an update on the themes of the Mk1 with the same MPV-style approach. Thankfully, the Mk3 model we're featuring here was almost unrecognisable from what had gone before.
Mercedes chose a more conventional family hatchback design for its third-generation A-Class, which sold in much greater numbers than the car it replaced. It may be less distinctive but the newer car is a much better used-car prospect. 
The new and improved Mk3 (W176) Mercedes A-Class hit UK roads in December 2012 with a choice of A 160 (101bhp 1.6-litre),  A 180 (122bhp 1.6-litre), A 200 (156bhp 1.6-litre) or A 250 (211bhp 2.0-litre) petrol models, alongside A 180 CDI (109bhp 1.5 or 1.8-litre) and A 200 CDI (136bhp 1.8-litre) diesels plus the 2.1-litre A220 CDI with 168bhp. All engines could be had with a dual-clutch automatic or six-speed manual transmission.
The A 45 AMG that appeared in showrooms in August 2013 featured the world's most powerful four-cylinder engine pumping out an impressive 360bhp. At the other end of the spectrum was the A 180 CDI Eco SE; introduced in January 2014, it claimed CO2 emissions of only 92g/km. At the same time, the A 250 4MATIC arrived with four-wheel drive.
A facelift in September 2015 brought new colours and materials, an A 220d 4MATIC option, an adjustable chassis (called Drive Select) and an A 180d option with claimed CO2 emissions of just 89g/km. The Mk4 (W177) A-Class arrived in 2018 to replace this version. 
Overall, the A-Class' trim levels are easy to understand. Pre-facelift entry-level cars only sat on steel wheels but got air-con and electric windows front and rear as standard. The SE brought 16-inch alloys plus a multifunction steering wheel, sports seats and navigation, while Sport models came with 17-inch rims and cruise control. 
Partnership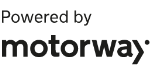 Need to sell your car?
Find your best offer from over 5,000+ dealers. It's that easy.
Plusher AMG Sport trim brought 18-inch wheels and run-flat tyres – all other derivatives get a tyre mobility kit. Top-spec Engineered by AMG models had 18-inch alloys, a bodykit, sports suspension, xenon lights and privacy glass among their upgrades.
Post-facelift cars got better standard equipment, including 16-inch alloy wheels, active brake assist, cruise control, keyless-go, reversing camera, Apple CarPlay and Android Auto.
What are the alternatives?
The A-Class did (and still does in its most recent form) battle with some serious competitors. The Audi A3 was the first premium small hatchback to make a dent in the new-car sales market and it's still a very desirable choice. Available in three or five-door (Sportback) guises, it features efficient, tried-and-tested VW Group engines, excellent build quality and a smart – if slightly dated – cabin. Four-wheel drive was offered on more models than in the A-Class,  too – a useful touch if you plan to tackle snowy roads in winter.
The BMW 1 Series shares all of the Audi's high-quality attributes but puts its power to the rear axle in the name of driver thrills and sporty handling. It loses a bit of interior space to its rivals but is absolutely the correct choice if you like to have fun behind the wheel. 
The Volkswagen Golf is forever the elephant in the room in conversations about used family hatchbacks – it's such a complete all-rounder that it's hard not to recommend. It's good to drive, there are plenty to choose from and there's a huge model range to explore. Don't overlook the more left-field Volvo V40, either: what it lacks in practicality it more than makes up for in safety and sharp design.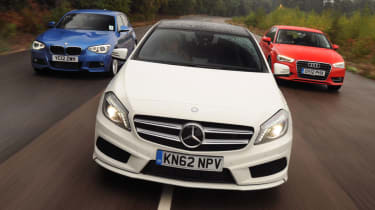 Mercedes A-Class vs BMW 1 Series vs Audi A3 Sportback
We tested the Mk3 A-Class against the key cars it was trying to beat in 2012 – the BMW 1 Series and Audi A3 Sportback. We praised its overall style and equipment but had reservations about cabin quality, practicality and the driving experience when compared to these rivals. Read the full test...
Mercedes A-Class vs Volvo V40
We put the A-Class up against a Volvo V40 D3 in 2012 and the A200 CDI diesel model lost out. We criticised the confined cabin and gruff diesel engine as well as the firm ride. The design of the A-Class inside and out won strong praise but the V40 was seen as the better all-rounder. Read the full test...
How much will a used Mercedes A-Class cost?
The Mk3 A-Class really caught the imagination of buyers and is highly sought after as a used car, which helps keep prices buoyant. The economical engine range is another bonus but look for cars that have been serviced at main dealers and had the various recalls addressed.
Prices 
The Mk3 Mercedes A-Class was priced in line with its market position and three-pointed star badge when new, but that doesn't mean you can't grab a bargain today. Prices for a good 2015 example with middling mileage are at around £10,000–12,000, climbing into the late teens and early twenties as specification rises and mileage drops.
You can check out the latest used prices for the Mercedes A Class on our sister site Buyacar or value a specific model using our valuation tool.
Fuel economy and emissions 
Our favourite Mk3 A-Class engine – the A 180d diesel – dips below the 100g/km barrier and is the one to go for if you want a great balance between performance and economy. The other diesels are reasonably efficient: the A 200d AMG Sport manages a claimed 62.8mpg.
Every model gets stop-start, while the optional seven-speed double-clutch gearbox posts better economy figures than the manual models across the board. Adding a DCT automatic gearbox to the A 200d boosts economy to a claimed 74.3mpg.
It's worth noting that not all of these fuel economy and emissions figures will be directly comparable to the figures for modern cars', pre-date the more modern (and accurate) WLTP test conditions that new cars are subjected to today. As with all used cars, its best to take official economy figures with a pinch of salt.
Running costs
The third generation A-Class range covers insurance groups 17 to 31, with most models in the 20s. The A 250 AMG has similar insurance costs as its hot-hatchback rivals, and is a more wallet-friendly choice than the A 45, which is in Group 44.
All new Mercedes models were covered by a three-year, unlimited mileage warranty, although most used examples will be beyond this limit now. Extended warranties were available when the car was new to cover up to five years and some may have these.
All A-Classes need to be serviced every 12 months or 15,500 miles. Labour rates vary across the country, so it's worth shopping around to save money: you can get quotes from any dealer at mymercedesservice.co.uk.
The big service is the fourth, which can run into the high hundreds so look out for cars that are waiting for this one. Brake fluid also has to be replaced every two years, although the coolant needs to be renewed only every 15 years. All A-Class engines are chain-driven, so there's no need to worry about replacing cambelts.
What do owners think?
Although generally known for making well-built, reliable cars, Mercedes hasn't had the best time in this department with some of its modern offerings. Our Driver Power survey results have generally highlighted some disappointed customers.
Reliability
The A-Class came 119th on its Driver Power debut in 2015, before creeping up to 86th in 2016's satisfaction survey. Owners loved the in-car tech (14th), seat comfort (25th) and ease of driving (30th), but lowly rankings of 147th for ride quality and 139th for practicality were disappointing and mirrored our experiences of the car.
There was a marginal improvement of 69th out of 75 cars in our Driver Power 2017 satisfaction survey, with the A-Class sandwiched between the Dacia Sandero and Renault Clio. Meanwhile, Mercedes was ranked 21st out of 27 manufacturers, and the dealers failed to make the top 10. Not what you'd expect from a premium car manufacturer.
How practical is it?
The Mercedes A-Class may have been a car that was all about practicality in its first and second generations, but the car that followed was aimed squarely at young professionals and company-car users. For that reason, the A-Class Mk3 was more on par with other style-conscious premium hatches like the BMW 1 Series: outright practicality was less of a concern. That's not to say it wasn't a useable hatchback – just don't expect Ford Focus or Volkswagen Golf levels of flexibility. 
Dimensions, cabin and boot space
The A-Class is slightly shorter than its BMW 1 Series or Audi A3 Sportback contemporaries, while its 1,780mm width is wider than the BMW, but narrower than the A3. However, the trade-off is a smaller boot – 341 litres versus the usual 360 litres and upwards of rivals, and nearly 40 litres down on the A3 and Volkswagen Golf.
The racy looks of the A-Class are appealing, but the price you pay for them is a relatively cramped interior. It won't appeal to many family buyers as the rear seats are cramped for adults, and relatively narrow door openings don't really facilitate easy fitting of child seats. Next to practical rivals like the Audi A3, it's not ideal, but it stacks up fairly favourably next to the similarly compromised BMW 1 Series.
Equipment and technology
One reason to choose the A-Class over one of its premium used rivals is its strong tech. All models get a tablet-style infotainment screen that, while not quite up to modern standard, is easy to navigate via the rotary controls on the centre console. It does look a bit like an aftermarket unit when compared to VW's integrated display and Audi's pop-up item, but it's great nonetheless.
Crucially, post-facelift cars get Android Auto and Apple CarPlay connectivity as standard – a useful feature that negates the need for sat-nav, which was an optional extra. Later cars also get keyless go as standard. 
Man-made Artico leather came as standard on earlier cars, although its slightly harder feel means you can notice the difference between that and the optional real leather you'll find in rivals.
Go for a Sport version and you get 18-inch wheels and a diamond pattern grille, although it forgoes the chrome finish seen on higher-spec AMG versions. One thing to note is that Sport models don't get lowered suspension, unlike some contemporary rivals.
It's worth looking out for an example painted in an interesting colour, as these were expensive options when new. Bright green or purple was a £595 option when new, while matte grey was an eye-watering £1,795. But even in standard white, the A-Class looks sharp.
Safety
With technology trickling down from the imperious S-Class luxury saloon, Mercedes has always been ahead of the game when it comes to safety. Later Mk3 A-Class models are worth picking if you want the full suite of systems. ESP and Collision Prevention Assistance came as standard, but do be aware that this is not a full autonomous braking system – it won't entirely prevent you from hitting the car in front.
There's Pre-safe, which prepares you and the car for an impending accident, and plenty of other high-tech kit was available on the options list even if it did add a lot to the price of this A-Class when new: it all helped the car get the full five stars from the crash safety experts at Euro NCAP. As standard, you get six airbags, tyre pressure monitors and collision prevention assist. Cruise control was standard across the range after the 2015 facelift, while goodies such as lane keeping and traffic sign recognition were included in option packs so you might find later cars that have these.
What's it like to drive?
With sporty bodykits and stiffer suspension, higher-spec third-gen A-Class models were clearly aimed at those looking for a car that's fun to drive. However, the BMW 1 Series still trumps the Mercedes in this department.
Engines and performance
The A-Class' engine lineup is simple to understand once you get used to the idea that a larger number denotes more power, if not the exact power output or engine displacement. The majority of engines could be had with a choice of dual-clutch automatic or six-speed manual transmission.
The range starts with the A 180, powered by a 122bhp 1.6-litre petrol engine. This is joined by the A 200 with a 156bhp version of the same engine, along with the A 250 hot-hatch with a 211bhp 2.0-litre unit. 
Diesels were bigger sellers and are most easily found on the used market. The oil-burner range started with the A 180 CDI (109bhp 1.5 or 1.8-litre) and A 200 CDI (136bhp 1.8-litre) diesels. There was also the A 180 CDI Eco SE, introduced in 2014 with a focus on low emissions. It's worth noting that post-facelift models carry a 'd' after the numerical designation, dropping the CDI tag. 
At the top of the tree in performance terms is the hardcore A 45 AMG that appeared in showrooms in August 2013, complete with a turbocharged four-cylinder engine with 360bhp. Soon afterwards, a four-wheel drive version of the A 250 arrived as a cut-price performance alternative. Post-facelift models worthy of note are the four-wheel drive A 220d 4MATIC and the A 180d with its claimed 89g/km on the NEDC tests. 
On the road
Like many other Mercedes models, the A-Class feels decently sporty, but it lacks the direct steering and responsive handling of the BMW 1 Series it went up against when new. There's plenty of grip, especially if you go for a four-wheel drive model, but the ride is too firm on UK roads. This is particularly true if you opt for high-spec cars with sports suspension and bigger alloy wheels.
The diesel engines are powerful enough, but they sound quite gruff and are a bit too noisy around town. Petrol models are better, but aren't as efficient and could do with being a bit more powerful to keep up with traffic easily.
Go for an A 200d and you get Merc's trusty 2.1-litre diesel under the bonnet. It makes 134bhp in this guise, but as mentioned, it's rather noisy when compared to rivals. Add a seven-speed DCT gearbox, and while it delivers smooth shifts, they're not as fast as the DSG-equipped Audi A3. Seventh is relatively long geared, to, so it kicks down readily at motorway speeds, but thankfully doesn't jerk between ratios.
In corners, the A-Class is a bit of a letdown. The numb steering doesn't offer any feedback, while the chassis lacks the agility found in an Audi A3 or BMW 1 Series. The Mercedes suffers with understeer, leaving you uninspired by its driving dynamics.
Slotting in just below the rapid AMG A 45 is the A 250 AMG hot hatch. Power comes from the same four-cylinder turbo petrol engine as in the A 45, but power drops from 381bhp to 215bhp. A few years ago, that would've been a fair amount, yet today, it's at the lower end of the power charts when compared to front-drive rivals such as the Honda Civic Type R and SEAT Leon Cupra.
Mercedes claims that the A 250 can sprint from 0-62mph in just 6.3 seconds, but damp conditions during our test meant we only managed a best 0-60mph time of seven seconds. That was half a second slower than the contemporary VW Golf GTI in the same conditions, although the two cars posted identical times through the gears from 30-70mph – both clocking 5.3 seconds. In-gear acceleration was similar, too, although the slightly shorter-geared VW edging ahead in the higher ratios.
What should you look out for?
Despite its premium image, the third-generation A-Class was not immune to issues. Make sure to check over the car's service history before you buy – and whether or not it has received any outstanding recall work.
Common used Mk3 Mercedes A-Class problems
Dash rattles
Some owners have complained about rattles, creaks and squeaks emanating from various sections of the dash. The centre console seems to be the main focus of this.
Seatbelts
The seatbelt height adjusters, built into the A-pillars, have a tendency to rattle loudly on earlier cars; later models have a redesigned mechanism.
Sat-nav
If you buy an A-Class without navigation, you can opt for an SD card for £200-£400 and simply slot it into the screen. You need to purchase the right card for your car.
Tyres
Some A-Classes have run-flat tyres and some feature conventional rubber. If you plan to swap from one type to the other, make sure you keep your insurer fully informed.
Interior
The cabin looks classy, but the build quality isn't what you'd expect and the screen looks like an afterthought. Those in the front have it best, as back seat space is tight, while rear visibility is poor due to the small windows. The boot isn't the biggest, either, at 340 litres with the rear seats up, or 1,157 litres with them folded.
Recalls
The first of several recalls came in May 2013 due to airbags failing to work. After that the car was called back for faulty front seats (October 2013), engine oil leaks (January 2015) and a loss of drive due to faulty driveshafts (July 2015).
There were further recalls after this, because of the front passenger airbag not deploying properly (August 2015), potential engine failure thanks to a manufacturing fault (November 2015) and in January 2016 because of the possibility of fuel leaks leading to a fire. There were also recalls in June 2017 Airbags, the brake booster vacuum line and an overheating fault when starting.