Mercedes A-Class vs Volvo V40
The new diesel Mercedes A-Class takes on the equally stylish Volvo V40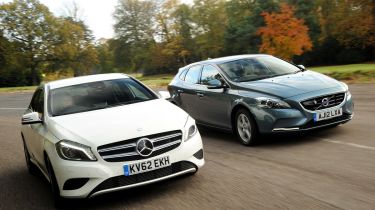 Mercedes will be hoping the new A-Class can make a quick recovery. The hot petrol-engined A250 AMG model suffered a heavy defeat at the hands of key class rivals from Audi and BMW in the A-Class' first test earlier this year.
Although we loved the modern exterior and the smart design on the inside, the car was let down by its rock-hard ride, indecisive gearbox and disappointing handling. So, can the diesel A-Class succeed where the petrol model failed?
The £24,720 A200 CDI Sport rides on standard suspension, rather than a firm sports set-up, and promises a better balance of ride and handling. Facing the Mercedes is the sleek Volvo V40. Like the A-Class, it trades on its style and upmarket appeal, and the V40 came close to beating the BMW 1 Series and Audi A3 in our previous test. That makes it a stern test for any newcomer.
The V40 SE Lux we tested is loaded with equipment, and its unique five-cylinder engine outguns the A-Class for power, but matches its low emissions – so the final result should be close.
Verdict
This was a chance for the new A-Class to redeem itself and justify the intense showroom interest. Yet while this A200 CDI has more to offer then the petrol car we tested first, it remains flawed as a family hatch.
We love its sharp styling and contemporary design inside and out, but the unforgiving dynamic set-up and claustrophobic cabin make far too many sacrifices to passenger comfort. Add in a gruff diesel engine, plus intrusive wind and road noise, and the A-Class falls well short of the standards set by rivals.
If the Comfort suspension offered some relief from the stiffly sprung chassis, the A200 CDI would be much easier to recommend. The car is efficient and surprisingly quick, and company buyers will be tempted by its low running costs.
In contrast, the shapely V40 is better equipped and far more relaxing to drive. The five-cylinder D3 engine injects the Volvo with more character and performance than the D2 that lost out last time we tested the V40. While it lacks the Mercedes' grip and composure at speed, the car is more relaxing in town and on motorways. It's easier to live with as a result.
Both cars compromise a certain amount of practicality for the sake of exterior style, but the A-Class goes one step further than the well rounded V40 – and pays a high price for it.