Mercedes A-Class vs rivals
We pit the stylish new Mercedes A-Class against its premium hatch rivals from BMW and Audi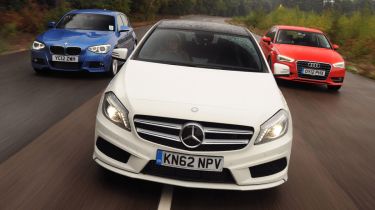 The Mercedes A-Class has always carved its own niche in the small car sector. The first two versions were more supermini-MPV than family hatch, but now the third generation has arrived, and Mercedes is aiming for the top of the premium small hatchback sector.
It gets a sporty new look, an upmarket interior packed full of hi-tech kit, a range of efficient engines and a comprehensive list of safety equipment. But does it have the right combination of talents to beat the best cars in the class? We've lined up the A250 AMG Sport against two hugely talented contenders to find out.
The BMW 1 Series is our current class favourite, and in 125i M Sport guise, it delivers great performance without sacrificing efficiency. Also facing the Mercedes is the all-new Audi A3. The diesel version came second to the 1 Series in its first test – so can the 1.8 TFSI do any better? And where exactly does the new A-Class fit into the mix?
Verdict
By pushing the A-Class upmarket, Mercedes has set its newest addition on a risky collision course with some of the best models in the business. So has the gamble paid off?
Well, if you value style above everything else, the Mercedes scores a direct hit. And although some of the cabin quality is a little below par, the interior is eye-catching and packed with clever hi-tech equipment.
Yet there's no escaping the fact the all-new A-Class isn't quite as roomy as its rivals, and it doesn't feel as composed on the road. It also costs more to fuel and service. As a result, it finishes a disappointing third in this test.
Separating the BMW and Audi is tougher. The A3 is beautifully built, handsome and features a keen engine, but ultimately it can't quite match the brilliant 1 Series. Fast, fun, practical and cost effective to run, the BMW is still the champ.