Trust Auto Express reviews
Find the verdicts you can trust on every new car in the UK and the most searched for used ones, with Auto Express car reviews
Evaluating cars is the cornerstone of everything we do at Auto Express. At the last count, the members of our road test team drive a combined total of more than 350,000 miles a year, every year, testing the latest models. We really do assess every new car on sale in the UK, and quite a few used ones as well, in real-world conditions and often in numerous different specifications, to create informative and authoritative review verdicts that you can trust and rely on.
Our car reviews look at each car in detail from the perspective of the consumer - focusing on what they want and need from a car – and in context of the alternatives and rivals that exist on the market at that time. A good car fulfils the brief set by its target market, and preferably exceeds it, while also eclipsing the competition on key criteria – from price and efficiency to safety, technology, quality and performance.
It all means that car buyers can have faith in our verdicts and confidence that the cars we recommend really are the best ones to buy to suit their precise needs.
How we test cars
The Auto Express test team have a huge amount of experience driving cars of all kinds on roads around the world. From hypercar track tests to city-centre supermini runs, from sliding across frozen Norwegian lakes or crawling over the boulders of a dried-out Omani river bed to sitting in a giant traffic jam on a wet Tuesday morning in the UK, we test cars in a huge range of different locations and weather conditions. 
The main focus, however, is how these vehicles will perform for you – right here in the UK, on our somewhat less-than-pristine road surfaces – and that's where we cover most of the crucial miles that feed into our highly respected final verdicts. All roads of all types all around the country – and even in the supermarket car park.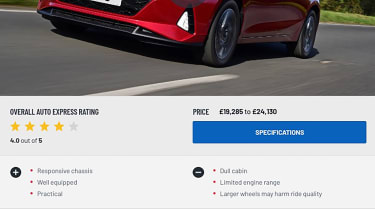 Star ratings 
The Auto Express star rating system is designed to give readers an instant view of how highly we rate a particular car. We take every aspect of the vehicle's make-up into account, usually after thousands of miles of driving, and assign a rating that indicates where our experts think the car sits in relation to the alternative models available to buy on the market at that time.
It's a simple way to convey what is usually a complex and nuanced verdict in the review itself, because the days when certifiably abject cars found their way onto the market are long gone. Platform and technology sharing between brands, as well as tightening emissions and safety legislation, mean that there are often only the finest of margins between the top contenders in a particular class. That only makes the in-depth analysis we undertake in our reviews all the more valuable to consumers.
You'll find star ratings between one and five stars in our first drives, in-depth reviews, long-term tests and group tests. Needless to say, five-star cars are rare, cream-of-the-crop class leaders while one and two-star cars are probably best avoided. Most models sit in the three to four-star range, which tells of the general competence and competition in today's car market. Half stars can be the difference between pulling the trigger on a potential purchase - new or used - and can more closely differentiate one vehicle from its competitors.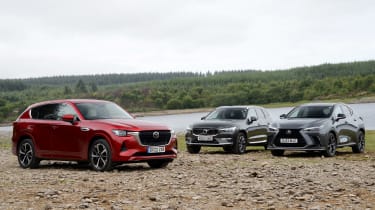 Group tests
Most car buyers have a budget and a set of requirements that zeroes  their shortlist in on a certain type of car. The challenge is working out exactly which of those ostensibly similar models to choose, and that's where Auto Express group tests come in.
Every week our team puts a new model on the market against one or two of its closest and most competitive rivals in a particular sector of the market, pitching them head-to-head on the same UK roads, over hundreds of miles of driving. The resulting test is the most detailed and useful analysis you'll find for car buyers wanting to understand the true strengths and weaknesses of the cars they're considering.
Partnership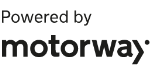 Need to sell your car?
Find your best offer from over 5,000+ dealers. It's that easy.
From how they drive to what they'll be like to own and live with – including how the all-important numbers stack up – the reviews team break down each area of the models in the test to deliver an in-depth analysis of every area of these vehicles, including the ever-more important infotainment on board and a direct comparison of finance deals on offer at the time, two factors that set the Auto Express group test apart from any other.
Long-term tests
There are always things about a car that are not instantly apparent on a one or two-day assessment, aspects of its design that reveal themselves over time either as invaluable innovations or niggly annoyances. They all come out in the wash over the course of an Auto Express long-term test.
Our long-term tests take the form of a series of reports delivered by experienced journalists who are actually living with the car in question day to day. Loading the boot, strapping kids into the back seats, exploring the dark recesses of the infotainment system and feeling the running costs right in their own bank balance. Over thousands of miles and months of use, these long-term tests give a true picture of what it's like to actually own the model in question – information that car buyers find hugely useful.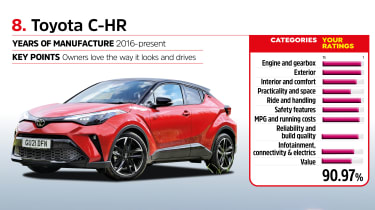 Driver Power
It's not just our expert road testers that determine the verdicts in Auto Express car reviews – you do too.
Our Driver Power car customer-satisfaction survey is a crucial source of information on how owners feel about their cars and it plays a major part in all our review content. Driver Power and the owner reviews on our sister site Carbuyer reveal how people feel about every aspect of their cars, from reliability, running costs and after-sales service to the way it drives and how the technology works.
Driver Power is always open for you to tell us about your car so why not leave your review now?