Apple CarPlay: what is it, how does it work, and is it better than Android Auto?
Apple CarPlay allows users to safely use many of the features of their iPhone while driving – this is our guide on what it is and how it works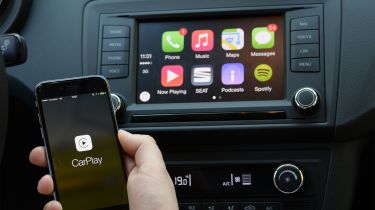 Apple CarPlay is Apple's in-house software for pairing an iPhone with a car's infotainment system. From economical superminis to luxurious executive saloons, Apple CarPlay is now being offered as standard or as a fitted extra on an increasing number of cars – meaning it's easier than ever to connect your phone to your car, while being able to use wide selection of apps through the touchscreen, steering wheel controls, and even voice recognition system. 
But what is Apple CarPlay, how does it work and what are the benefits? Our handy guide takes you through the features.
What is Apple CarPlay?
By creating its own user interface for iPhones in cars, Apple's CarPlay system aims to make using your iPhone's features as safe and straightforward as possible when behind the wheel. Along with the ability to make phone calls, send messages and look up contacts, Apple CarPlay lets you access your music through Apple Music or third party apps such as Spotify.
You can also use navigation apps such as Apple Maps, Waze or Google Maps. Not all apps are available, though, with only those being deemed safe to use while driving being accessible – meaning apps like YouTube, or games, are off limits.
What are the benefits of Apple CarPlay?
A key benefit of using Apple CarPlay is that it's simple to connect your device to your car. The interface is really simple and easy to use on the move, and apps used within the system are connected to the internet and being updated regularly. This is particularly beneficial when using navigation apps, as these are able to display up-to-date traffic information and can even alter your route to avoid the resulting delays.
Many manufacturers like Toyota, Mercedes, Volkswagen and Ford provide their own infotainment operating systems, which offers smartphone connectivity, although Apple CarPlay often features alongside this manufacturer software and the over-the-air updates can quickly make other pre-installed systems look outdated, although over-the-air software updates are becoming more widely supported by car manufacturers.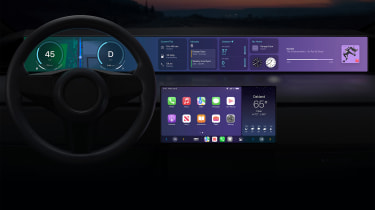 The display should feel very natural to iPhone users, as the screen is easily laid out and the app icons are easy to use and navigate while behind the wheel, but Apple CarPlay's functionality is not just limited to a car's main infotainment screen. A major update was introduced in 2023 increased the functionality of Apple CarPlay to include all driver display screens. This new setup can include dashboard readouts, alongside customisable widgets which appear in front of the driver, such as in the drivers display on digital dashboards and virtual cockpits. Only eligible models will receive this upgrade, though, with Volvo being one of the first manufacturers to confirm that its cars will use this new system.
If you're an Android phone user you won't be able to use Apple CarPlay with your device, but Google's Android Auto system will allow you to access many of the same functions. Asking which is better in the great Carplay/Android debate is a bit like choosing between BMW or Mercedes. They're both great, just a bit different, and whichever phone system you prefer will determine whether Carplay or Android Auto is best for you.
How do I connect my iPhone to work with Apple CarPlay?
Using CarPlay is pretty effortless and you can connect your iPhone (or even iPad) to your car in an instant. All CarPlay systems can be connected via the car's USB or USB-C socket, and an increasing number of cars now offer a wireless connection, too. Once you're connected just follow the brief on-screen instructions asking you to unlock your phone. This will permit CarPlay to access it, and then you'll be ready to roll. You will only need to do this once as your iPhone will log the connection you've made to your car, so that the next time you connect, it will start working automatically.
When you connect CarPlay, the car's infotainment screen will show a menu of the compatible apps on your iPhone. This includes pre-installed iPhone apps such as Phone, Music, Maps, Messaging, Audiobooks and Podcasts. Third-party apps such as WhatsApp or Spotify can also be accessed. 
Partnership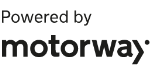 Need to sell your car?
Find your best offer from over 5,000+ dealers. It's that easy.
Using CarPlay is far easier and safer to do than trying to use your iPhone while driving, which of course is an offence that's punishable by a fine and points on your licence.
The latest version of CarPlay – Car Key
Apple CarPlay iOS 17 allows you to unlock and even start some car models with your iPhone. This clever feature also allows you to lend contacts a virtual key, called Car Key, so you can grant friends and family access to your car even if you're not there to physically hand anything over. The technology also prevents the car from locking if you've left your iPhone inside. Only some models built from 2021 onwards are currently compatible with this feature, with BMW being one of the first brands to offer it.
The latest version of CarPlay – Apple Maps
Apple installs the Map app as standard on all iPhone and iPad devices, and as it's fully CarPlay compatible, it means you can have sat-nav in your car for the fraction of the cost of factory-fitted nav systems. It displays turn-by-turn directions on your car's infotainment screen, and offers the full range of location search and destination functions that a conventional nav system offers. In fact, some carmakers are already dropping the option of sat-nav on some CarPlay-equipped cars, and it's a real possibility that built-in sat-nav could become obsolete in the near future. 
Apple Maps has received some updates, aside from the usual optimisation and performance tweaks. In addition to maps now displaying in 3D, the map display has more details – showing turning lanes, pedestrian crossings and bike lanes providing more detail for the driver. EV routing for plug-in hybrid and electric car drivers has also been updated, showing information on the number of available charging points at a location and plug types. Maps can also be downloaded and displayed in 'Offline' mode too, allowing drivers to continue their journey, even if the mobile data signal ever drops out.
The latest version of CarPlay –  Siri
Not all cars come with voice control, but iPhones are fitted with the Siri voice assistant as standard, and this adds user-friendly touches when used with CarPlay. It works in conjunction with messaging apps and can read out text messages over the car's speakers. What's more, you can dictate messages to Siri to send to contacts. The effectiveness of this depends on how refined your car is, because background noise can hamper Siri's ability to transcribe what you say.
Apple's voice assistant Siri has also received some upgrades in the latest version. The previous update saw Siri read out your text messages automatically when you receive them, meaning you no longer had to distract yourself by interacting with the touchscreen to play them out loud, and could use the voice control buttons on your steering wheel if your car has that feature. The interface has been slimmed down slightly, reducing the amount of space taken up on the screen for improved multi-tasking, such as when used in conjunction with navigation apps. 
Which cars come with Apple CarPlay?
As time progresses, more and more car makers are embracing CarPlay technology. The first car to use Apple CarPlay was the Ferrari FF, which was revealed at the 2014 Geneva Motor Show. Other makers soon followed suit, and today CarPlay is usually bundled together with Android Auto in a car's infotainment package. It's quickly becoming standard kit on new cars, although some manufacturers, such as BMW, took their time in offering the tech at no extra cost to the customer.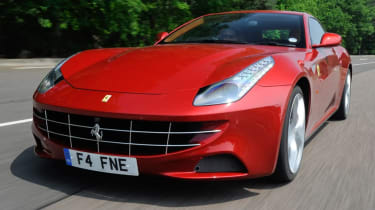 If you're not in the market for a new car, but would like to upgrade your car's infotainment system you can also buy aftermarket navigation/audio head units that are pre-loaded with CarPlay – reputable manufacturers such as Alpine, Sony, JVC, Pioneer and Kenwood all offer compatible head units.
Some manufacturers like Tesla or Rivian don't offer Apple CarPlay or Android Auto with their vehicles, opting to use their own operating systems and software.
Apple CarPlay versus Android Auto review – which is better?
The basic features of the two rival systems are broadly similar, but dedicated iPhone users will prefer the simple and refined CarPlay interface, which mimics the look and feel of an iPhone.
Android Auto uses the live update card information system used by Google Now.
Music features naturally reflect the systems' origins too – so CarPlay uses Music (formerly iTunes) but also connects to Dash Radio, Stitcher and Audible, while Android Auto leads with Google Play Music, but also enables Spotify and Radioplayer.
Both rival systems handle navigation and mapping effectively, but many users will be instantly more comfortable with Android Auto's Google Maps system, as it's so familiar from their desktops.
Apple CarPlay versus Android Auto review – verdict
In terms of functionality the two systems are very similar, but CarPlay focuses on simple, clean, intuitive user journeys while Android Auto's strength is a more open platform for third-party apps and content. Apple is continuing to open up CarPlay to be compatible with more third-party apps, though.
Tell us about your experiences with Apple CarPlay in the comments section below...