Best car videos ever: our all-time greatest hits
The Auto Express YouTube channel has racked up over 250 million views, and we've delved into archives to bring you our most popular films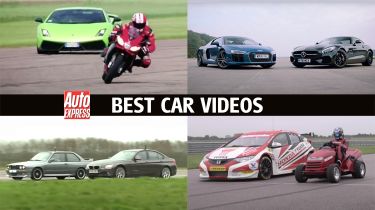 We love writing about the latest and greatest metal here at Auto Express, but nothing conveys the ferocity of a supercar or the serenity of a luxury EV quite like a beautifully filmed video. On our YouTube channel, we cover all corners of motoring with expert reviews, track battles and walkarounds each week, with a 530,000 subscriber base. 
Our audience has watched more than 10 million hours of Auto Express content since the channel's inception, so it seems you enjoy our videos just as much as we do producing them. The most popular Auto Express films have racked up millions of views, and include super bike and sports car twin tests, family car reviews and even a rendezvous with a certain quietly spoken Finnish Formula 1 driver. We've collated a list of our best ever car videos below, ranked in order of total views.
Our top 10 best car videos by views
1. BMW M5 vs BMW S1000RR (8.2 million views)
We pit the F10-generation BMW M5 against its searingly fast two-wheeled stablemate. 
2. Nissan Juke-R vs Nissan GT-R (5.4 million views)
The deranged 485bhp Nissan Juke-R crossover lines up next to an R35 GT-R for a flat-out track battle.
3. Lamborghini Gallardo LP-570-4 Superleggera vs Aprilia RSV4 (3.7 million views)
The track-honed Gallardo Superleggera takes on an Aprilia RSV4 superbike around a circuit. 
4. Ferrari F12 hot lap with Kimi Raikonnen (2.5 million views)
We climb aboard a Ferrari F12 for a tyre-smoking hot lap with F1 world champion Kimi Raikonnen. 
5. BMW M4 vs Audi RS 5 track battle (2.3 million views)
Audi's V8-powered super coupe locks horns with the F82-generation BMW M4 in a battle of German brutes. 
6. Mercedes-AMG GT S vs Audi R8 V10 drag race (1.4 million views)
Eight cylinders plays ten in a drag race between the Mercedes-AMG GT S and Audi's finest supercar. 
7. Lamborghini Aventador vs Ferrari FF drag race (1.3 million views)
Two storming Italian V12 supercars trade blows at over 170mph on an empty runway. 
8. Audi A4 review (1.3 million views)
We find out if the B9-generation Audi A4 has the star quality to topple the BMW 3 Series. 
9. BMW E30 M3 vs BMW 320d (1.3 million views)
The humdrum BMW 320d puts up a surprisingly good showing against the firm's iconic E30 M3. 
10. Honda Mean Mower vs BTCC Honda Civic (1.2 million views)
The unhinged 110bhp Honda Mean Mower takes on a genuine BTCC car around the Rockingham circuit.
Want to see more? Check out our best videos of 2022...