Insurers launch campaign to tackle uninsured driver surge
Rise of 10 per cent this year, with a third of those uninsured under 30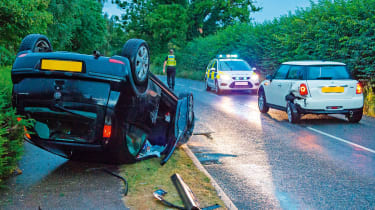 Claims for uninsured driving have risen by 10 per cent over the past year, according to the Motor Insurers' Bureau (MIB), which has launched its first national campaign to tackle the issue for three years.
The figures had declined since 2005 when police were granted powers to seize vehicles, halving over the last decade to one million.
But from July 2014 to July 2015, the MIB – which compensates victims of accidents with uninsured drivers – said the number of claims was up 10 per cent. It also said a third of uninsured motorists are aged under 30, with the prohibitive price of young driver policies playing a big part.
• Government plots biggest motoring reform since 1935
To stop the growing numbers, the MIB's campaign features a "Gone in seconds" video to highlight how quickly a car can be picked up by police Automatic Number Plate Recognition (ANPR) cameras and seized.
Ashton West, MIB chief executive, said: "This year we've seen the number of claims rising week on week. Every year, thousands of people are injured and killed by uninsured drivers and, to address this, we are working proactively with police forces across the UK.
"Our biggest concern is getting the message across to under-30s. We know that, for these drivers, a car is an important part of their social life and gives them credibility."
• Tips to cut your car insurance costs
Continuous insurance enforcement (CIE) identifies registered keepers of vehicles that seem to have no insurance, with more than 4,000 drivers being sent notification letters each day. Failure to act carries a £100 fixed penalty or court prosecution.
Being caught driving without insurance could result in a £300 fine and six penalty points, plus storage and collection fees for a seized car, or the threat of it being crushed.
Ben Howarth, the Association of British Insurers' policy adviser for motor and liability, backed the campaign.
He said: "Those motorists who flout the law and drive without insurance are a danger to all other road users. Also through the payments made to their victims, they push up the costs of motor insurance for law-abiding drivers."
Should the punishments for driving without insurance be stricter? Let us know in the comments...