Motorway red X signs now enforced by cameras
New Home Office legislation allows Highways England to use cameras to catch drivers ignoring red X signs and issue Fixed Penalty Notices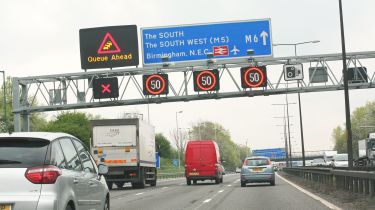 Motorway red X signs indicating a closed lane are now being enforced by cameras. Home Office legislation which came into effect on 10 June 2019 allows Highways England to use cameras to automatically issue Fixed Penalty Notices (FPNs) to drivers who ignore the red X signs on motorway gantries.
Motorists caught by the cameras will receive three penalty points on their driving licence and face a fine of up to £100.
Under previous rules, drivers could only be issued an FPN for ignoring a red X sign if a police officer caught them doing so, which was made unlikely by falling numbers of road traffic officers in the UK.
In an effort to curb the offence, Highways England has issued more than 180,000 warning letters to drivers since the beginning of 2017. Under the new camera enforcement system, as with motorway speeding offences, the police force where the red X breach occurs is the one that issues the FPN.
When the move was first announced in May, Mike Wilson, chief highways engineer at Highways England, says: "Our motorways are already among the safest in the world but this move will make them even safer.
"Red X signs over closed lanes help protect drivers from dangers ahead. Most drivers comply with lane closures, but the minority of people who don't are putting themselves and other road users at real risk. We welcome this auto-enforcement and the increase to driver safety it will bring."
Edmund King, AA president, adds: "Although it has taken far too long, this is a welcome measure to improve safety on motorways.
"Our research shows that one in 20 drivers continue to drive in red X lanes, even when they've seen it and, so far, Highways England have written warning letters to over 180,000 drivers about their actions.
• VED road tax: everything you need to know
"Red X's are put up to warn of an obstruction, so drivers must get out of the lane when they see them. We have had several incidents recently where AA members' cars have been hit in a live lane on 'smart' motorways."
When the AA surveyed 20,569 drivers in September 2018, the data suggested five per cent of drivers continue to drive in red X lanes, even when they've seen the sign.
Meanwhile, an RAC survey of 2,093 drivers from March 2019 saw 23 per cent admit to having ignored a motorway red X sign, either accidentally or on purpose. Spokesperson Rod Dennis said: "A majority of drivers told us that they were in favour of cameras being used by the police to catch offenders, something which we very much hope will make our motorways safer."
What do you think about the growth of smart motorway technology in the UK? Let us know in the comments...