Motorway services and major fuel stations to have electric charging points
Under new Government plans all charging points will include smart chargers capable of interacting with the grid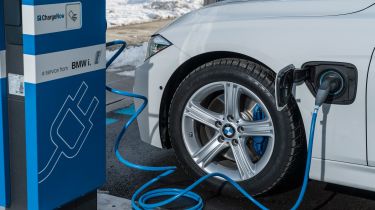 Motorway services and large petrol stations will be required to install charging points for electric cars under new Government plans.
The Automated and Electric Vehicles Bill introduced in the Queen's speech earlier this year makes it mandatory for motorway services and large fuel forecourts to install EV charge points. Transport Minister John Hayes has now confirmed the Government's plans to increase the size of UK's charging infrastructure.
Hayes said: "We want the UK to be the best place in the world to do business and a leading hub for modern transport technology, which is why we are introducing the Automated and Electric Vehicles Bill in Parliament and investing more than £1.2 billion in the industry."
The charging stations will all have to feature 'smart' chargers that enable them to communicate with the wider grid to manage electricity demand across the country. The bill also requires charging points to be convenient to access, work seamlessly across the UK and adhere to the same operational standards.
The announcement follows an investigation by Auto Express which previously highlighted how the UK's public charging infrastructure is struggling to keep pace with EV uptake.
Electric and plug-in car ownership has soared from 2,254 vehicles in 2012 to 85,983 at the end of last year. However, the number of charging points in the UK has only increased from 2,883 in 1,287 locations to 11,736 in 4,243 locations during the same period. The ratio of EVs to chargers has grown from 0.78 to 7.32 in just four years, according to data obtained by charge point database Zap-Map.
That means the current car-per-charger ratio is in danger of falling behind European Union targets. The European Parliament has said for EVs to become commercially viable, there has to be at least one charger for every 10 cars on the road.
• "Growth in the EV market isn't matched by plug-in points"
A Committee on Climate Change report previously estimated that by 2020, the UK could have around 700,000 EVs on the road – so an additional 60,000 chargers could be required in the next three years.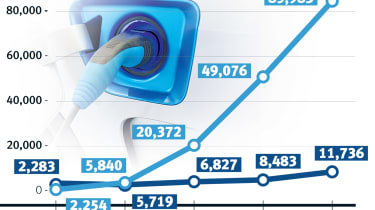 But despite the Government announcing a £600million boost to promote uptake of electric and plug-in vehicles, Melanie Shufflebotham, director of Zap-Map, estimates the number of chargers will rise to just 30,000 in 12,000 locations by 2022.
Yoann Le Petit, Clean Vehicle and Emobility officer at campaign group Transport & Environment, said: "The UK now has good coverage in many areas, but will need to ensure fast charging points continue to be developed throughout the trunk road network, notably between Sunderland and Leeds, and Edinburgh and Newcastle."
But it's not just up to the Government to invest in the infrastructure. Steve Gooding, director of the RAC Foundation, stressed: "Ultimately, public investment in charging infrastructure will need to be matched by the private sector." The Government's own Go Ultra Low campaign found more than 90 per cent of all EV charging takes place at home, and for those who drive further than the national 10-mile average commute, "charging infrastructure is growing rapidly".
Ratio of electric vehicles to chargers
| | | | |
| --- | --- | --- | --- |
| Year | EV/PHEV | Chargers | EV per charger |
| 2012 | 2,254 | 2,883 | 0.78 |
| 2013 | £5,840 | £5,719 | 1.02 |
| 2014 | 20,372 | 6,827 | 2.98 |
| 2015 | 49,076 | 8,483 | 5.78 |
| 2016 | 85,983 | 11,736 | 7.32 |
Do you own an electric car? Do you find it hard to find a charging point? Let us know below…