Laws needed for remote control driving on UK roads
Legal experts recommend a new regulatory framework for ensuring the safety of remote controlled vehicles on the road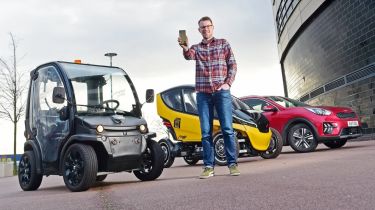 The Government should take action to regulate the use of remotely operated vehicles in the UK, the Law Commission has said. The independent body, which advises the Government on legal matters, is looking into the issue of remotely piloted vehicles. These are already in use on farms and in warehouses, but trials have been conducted looking at their application on the road in future.
The Law Commission has highlighted that there are currently no laws prohibiting the driver of a vehicle from being beyond the line of sight and has recommended that this be addressed in the short term with legislation preventing vehicles from being remotely operated on the public highway.
Under this legislation, the Law Commission suggests that organisations wishing to trial such technology on the road could apply to the Vehicle Certification Agency for permission to do so once they have submitted a safety case.
In the longer term, licences specifically for remote driving would be required, the Law Commission says. Due to a lack of enforcement powers, a ban on vehicles being remotely operated from abroad is also recommended.
Broadly, the Law Commission argues that remote drivers should be subject to the same penalties as those physically behind the wheel in the event of an incident. It says, however, that incidents arising from problems beyond the driver's control – such as connectivity issues or faulty equipment – should be blamed on remote driving companies rather than individual drivers. Victims of any incidents involving a remotely driven vehicle, meanwhile, should be awarded no-fault compensation.
Public law commissioner Nicholas Paines KC said: "Our advice concludes that in the immediate term, the Government would be able to address some gaps in the law around remote driving using existing powers, while also providing a path for companies to use the technology lawfully provided that their systems are safe. In the longer term, it could set up a full system of remote driving regulation.
"Regulations must respond to other fundamental concerns around security threats and liability in the event of an accident. Our advice paper sets out a roadmap for how the Government can address these problems, whilst also encouraging companies to innovate."
Transport minister Jesse Norman said the Government would "carefully consider" the Law Commissions proposals.
Click here for our list of the best electric cars on sale...